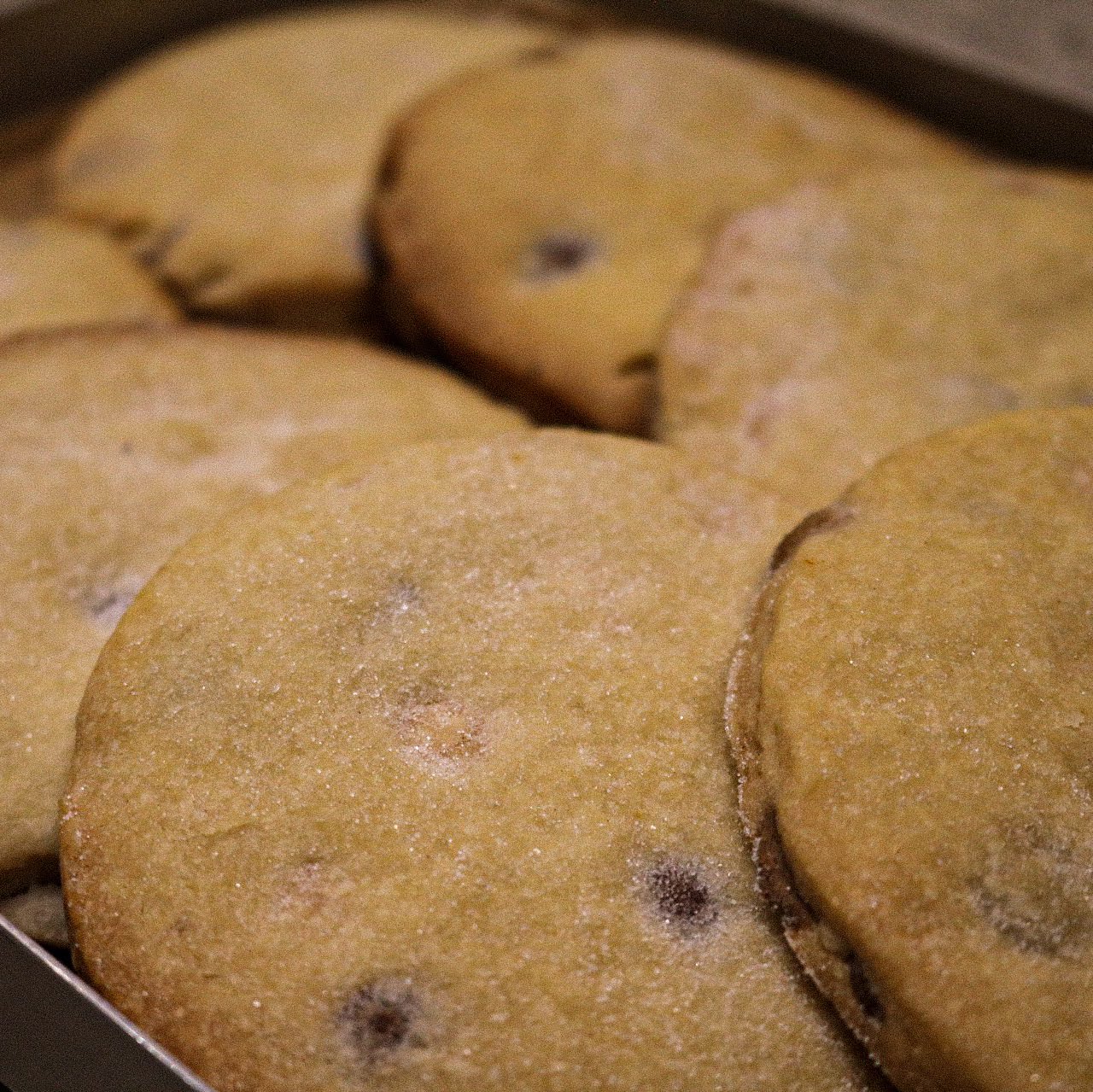 Shortbread is one of my boyfriends favourites. Lucky for me it's also one of my simplest recipes, but there are some tricks of the trade to note to take your shortbread cookies up a level.
Made from three key ingredients; Butter, sugar and flour, there doesn't seem to be much to these cookies but sometimes less is more. You can make these without the chocolate chips for a traditional shortbread, but personally I think it really adds something special.
Ensure that all your ingredients are room temperature before hand to ensure they incorporate nicely. One of the most important steps of this recipe is the chilling and resting period. Chilling your cookie dough improves dough hydration (for better flavour and texture) and ensures they hold their shape in the oven and you're left with a sharp looking cookie. Resting the dough after being rolled out helps to prevent shrinkage and keeps your cookies nice and tender.
On with the recipe…
Ingredients
250g unsalted butter
250g plain flour
60g cornflour
70g caster sugar
1 tsp vanilla extract
1⁄2 tsp salt
100g milk chocolate chips
caster sugar to sprinkle
Method
In the bowl of a stand mixer add the butter and sugar and beat on high speed until light in colour and fluffy, around 5 minutes.
Scrape down the sides of the bowl with a rubber spatula.
In a separate bowl combine the flour, cornflour and salt. Whisk by hand to get rid of any lumps and blend the dry ingredients together.
Add the dry mix into the butter mix and pulse a few times until just combined.
Add the vanilla and chocolate chips and pulse 2 more times. It is important not to over mix.
Transfer the dough into cling-film and pat down into a round. Refrigerate for 30 minutes. (You can make the dough in advance, it will last in the fridge for around 5 days.)
Lightly flour a worktop and and roll out the chilled dough into an even 1cm thickness. Leave to rest for 10 minutes.

Cut into disks using a plain cookie cutter and place spaced out onto a lined baking tray. Bake at 170 degrees celsius for 14-16 minutes until a very pale golden brown colour.
Sprinkle the tops with sugar as soon as they're out of the oven and allow to cool fully on the tray.
Enjoy!