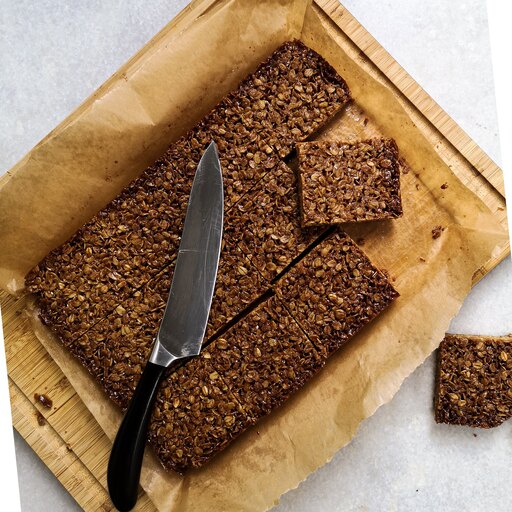 Flapjacks are my boyfriend's favourites. He loves them syrupy and salty with crispy edges and a chewy middle, so these bad boys tick all the boxes.
They only take an hour from start to belly, and have minimal ingredients made of things you will probably find at the back of the cupboards.
I love adding different nuts and spices to the mix depending on the season. My current favourites are ginger and dark chocolate, and customer favourites are hazelnut, pecan and coconut and apricot.
If you want perfect looking slices try to wait until the flapjack is fully cool before slicing- this can be tricky as they smell sooo delicious fresh from the oven. Store them in an airtight container at room temperature and they should last around a week.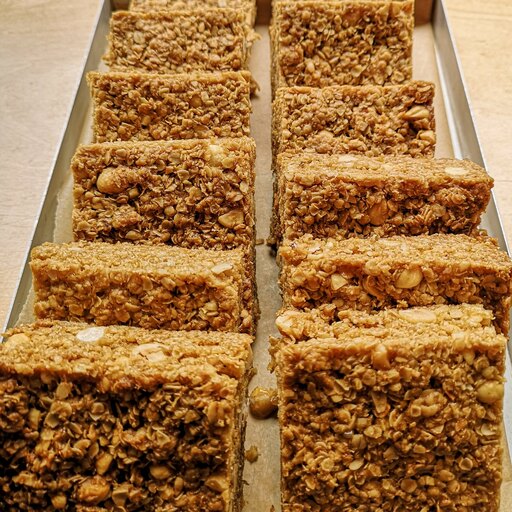 Makes 12 flapjack squares
Ingredients
500g rolled oats
250g salted butter
250g light brown soft sugar
90g golden syrup
5g Maldon sea salt flakes
150g chopped nuts, chocolate, dried fruit (optional)
Method
Preheat oven to 170 celsius.

Grease and line a rectangular baking tin with butter and parchment. Set aside.

Into a sauce pan add butter, sugar, syrup and salt.

Melt over a medium heat until sugar is dissolved and everything is combined and smooth.

Add the oats and any additional fillings of your choosing. If adding chocolate then allow the mixture to cool slightly before adding to prevent it from fully melting into the mix.

Pour into the prepared tin and press down firmly into the corners and flatten with the back of a spoon.

Bake for 25-30 minutes until bubbling and a deep golden brown.

Remove from the oven and let cool fully in the tin before removing and portioning.
Enjoy!