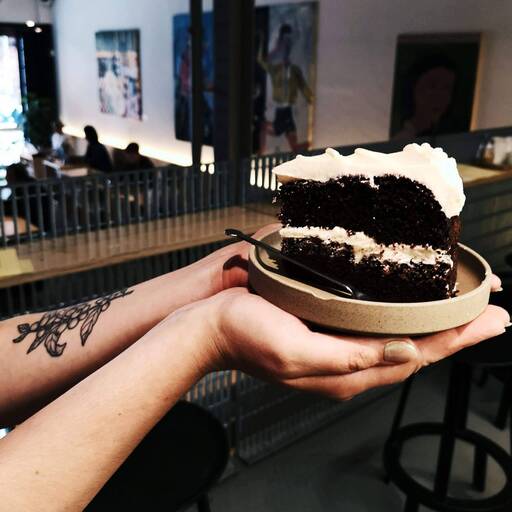 This chocolate fudge cake is a deeply chocolatey and moist sponge, it has a bouncy crumb structure and is super easy to make. It's definitely one of my most popular cakes with family and customers and honestly, it's one of my favourites too.
This recipe is another one that was passed down to me from working in professional kitchens and it is the one I can rely on to give me a perfectly moist and chocolatey sponge every time.
I use this recipe as the base for lots of different cakes. For a mocha cake I add a few shots of strong espresso, and different flavoured creams and fillings can make for so many different variations. I will include the recipe for my vanilla swiss meringue butter cream to make a simple but delicious chocolate fudge and vanilla cake, but as always feel free to modify to your liking. For example, add a couple of tablespoons of salted caramel, coffee or cookie dough.
The sponge is oil based, vegetable oil is preferable as it doesn't carry much flavour, but olive oil will work if you're after that strong flavour, for example in a chocolate, olive oil and rosemary cake. The oil makes for a super moist sponge that stays fresh for days longer than a butter based sponge.
For cocoa powder, try to use a natural cocoa or extra brut, the acidity will react best with the bicarbonate of soda to produce nice air bubbles and lift in the sponge.
Ingredients
For the sponge
3 large eggs
250ml vegetable oil
250ml whole milk
50g golden syrup
250g caster sugar
9g bicarbonate of soda
50g natural cocoa powder
300g self raising flour
pinch maldon sea salt
2 tsp vanilla essence
For the vanilla swiss meringue butter-cream
220g egg whites at room temperature
400g caster sugar
350g unsalted butter at room temperature
1⁄2 tsp sea salt
2 tsp vanilla bean paste (vanilla essence alternative)
Method
For the sponge
Preheat the oven to 155 degrees celsius. Grease and line a 23cm round spring form cake tin with baking paper. Set aside.

Into the bowl of a stand mixer add the eggs, oil, milk, syrup, sugar and vanilla. Mix until combined with a whisk attachment.

In a separate bowl combine the bicarb, cocoa powder, flour and salt. mix until lump free.

Add the dry mix into the wet and whisk for two minutes on medium speed until smooth and fully combined.

Pour the cake mix into the prepared cake tin and smooth to level with an offset spatula.

Bake for 1 hour 15 minutes. But check at 50 minutes as different ovens vary in cooking time. It may take more or less time so check by inserting a tooth pick to the center. The cake is done when the pick comes out clean. When checking, ensure not to slam the oven door as this will encourage your cake to sink.

When fully baked remove from the oven. Allow to cool in the tin for 15 minutes, then transfer to a wire cooling rack to cool fully.

I recommend Chilling the cake for at least an hour before cutting and icing as this will make for a cleaner finished result.
For the vanilla swiss meringue butter-cream
Bring a pan filled with two inches of water to a simmer.

In a bowl that fits snug onto of the pan add the egg whites and sugar. Place over the simmering water.

Continuously whisk the mixture by hand until the sugar has fully dissolved and the egg white feel warm and grit free to touch.

Place the egg white sugar mix to the bowl of a stand mixer and begin to whisk on high speed.

Whisk until the bottom of the bowl feels room temperature to touch, this should take around 5-6 minutes.

Start to add the butter, ensuring it is completely at room temperature and lump free, spoonful at a time, making sure it is fully combined before adding the next, until all butter is added.

Continue to whisk on high speed for a further 5-6 minutes until the butter-cream starts to thicken and come together. It should appear thick and smooth and glossy. At this point add the salt and vanilla and whisk for a further minute until fully combined.

Here you have your finished butter-cream to decorate you cake however you like. I like to divide the cake into three layers and fill each with a layer of the butter-cream and a sprinkling of cocoa nibs. It's up to you if you want to coat the outside edges or not but this mix should be more than enough to cover and fill the entire cake with spare to pipe on the top.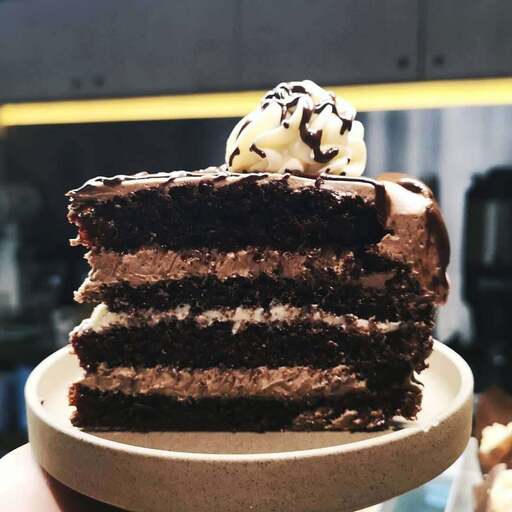 Side note- Problems with butter-cream
If your butter-cream has split, this is probably because your egg whites were too hot when the butter was added, r that the butter itself was too hot or too cold when added to the mix. Avoid this by ensuring all elements are at room temperature.
To fix, you can try putting the split mix into the fridge for 40 minutes to bring the temperature down, try whisking again and the mix should come together smoothly.
Enjoy!