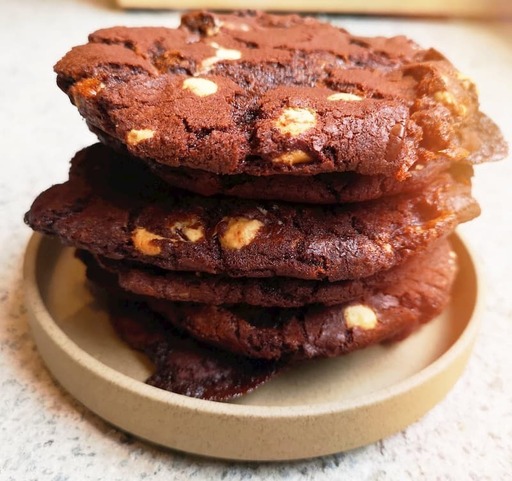 These cookies are my favourite. It took me a while developing the recipe to be just how i wanted it, but it was definitely worth the time- don't worry all the test batches went to hungry co-workers and family!
For me, the perfect cookie is chewy and crispy on the outside, and soft, almost under baked, on the inside. Fillings are completely up to you; include your favourite chocolate bar, nuts or spices. I personally enjoy honeycomb and caramelized white chocolate with the addition of high quality sea salt to offset the sticky sweetness. This recipe is for chocolate cookies but simple alterations to the recipe can be used to make endless alternatives.
I prefer to make a big double batch of the dough, as i work in a coffee shop, so i can quickly bake off another batch when running low. The mix can last in the fridge, wrapped or in a sealed tub, for up to a week or in the freezer for around a month.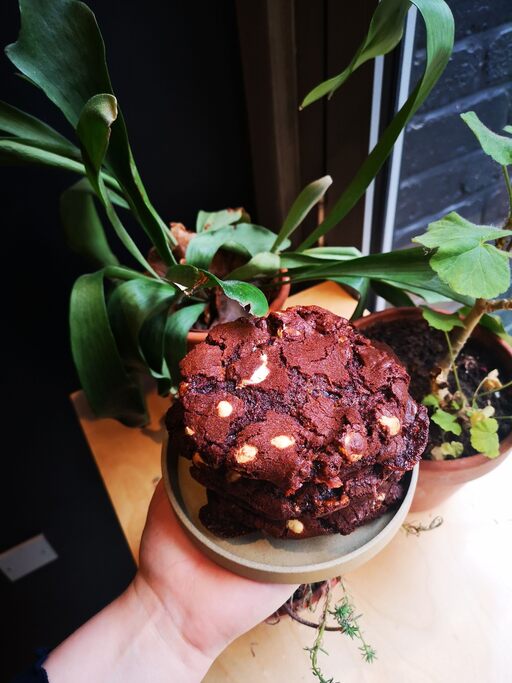 Firstly you will need to make your own brown butter, but dont worry, it couldn't be simpler;
Brown butter
All you will need is a heavy based sauce pan and 500g good quality butter (salted or un-salted to preference.)
Place the butter in your sauce pan and put it on medium heat. simply start melting the butter, swirling or stirring from time to time to ensure an even heating, until it resembles a golden brown colour that is clear. you will probably find a foamy top, which you can skim with a ladle to keep the butter clear. We want a medium browning for this recipe, so when the butter resembles a medium brown, slightly past golden, remove from the heat.
The bottom of your pan should have formed a sediment of the milk solids. We dont want these bits, so when passing through a fine sieve, just discard these bits.
Once passed and cooled, chill in a lidded container in the fridge- this should last a couple of weeks.
Brown butter is great for pretty much anything that calls for butter as it adds a certain depth of flavour you can't get from regular butter.
I would recommend making a large batch so you have it to hand for other recipes. My favourite use is for steak and fish.
Now for the main event…
Chocolate cookie recipe
Ingredients
200g brown butter
150g caster sugar
150g light brown soft sugar
1 egg
270g self raising flour
80g extra dark cocoa powder (unsweetened)
30ml whole milk
1⁄2 tsp Maldon sea salt flakes
1 tsp vanilla essence
100g baked white chocolate chips
60 crushed honeycomb
Method
Preheat the oven to 190 degrees celsius.
Line two large baking trays with baking parchment.
Start by creaming the butter and the two sugars together until light and fluffy. You can do this by hand or in a stand mixer.
Sift together the flour, cocoa powder and salt.
Add the egg followed by the dry ingredients.
Once all incorporated- add the vanilla, chocolate and honeycomb (or any alternatives you wish to use.)
Beat until just combined- you dont want to over work it or your cookies will be tough. Finally add the milk.
Weigh out the mixture into 75g balls- you should get around 12.
Place onto baking sheet and press down lightly with your hand or the back of a spoon.
Bake for 10-12 minutes. At this time your cookies should have spread out and formed a crackle crust. They should still look a little wet and wobbly in the center, but dont worry this is what we want! Don't bake for more than 12 minutes.
Leave to cool on the tray for at least ten minutes until firmed up- then you can transfer to a wire cooling rack.