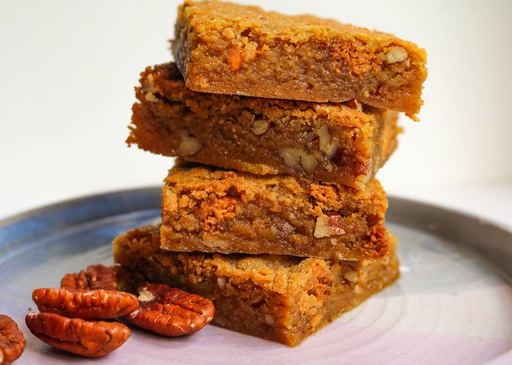 Blondies are fairly new to me. I've never really been that into them, I would have rather just had a brownie, because chocolate > no chocolate. However due to popular demand at work, blondies have repeatedly been on my to do list.
Having blagged my way through many mediocre recipes I decided it was time to develop my own.
These blondies are filled with caramelised white chocolate, toasted pecans and a deep and nutty brown butter base.
They are pretty quick and simple, and the base recipe is very accommodating to fillings, you could swap out the nuts for raspberries or chocolate to fudge pieces. Anything goes really.
Ingredients
250g butter browned and reduced to 195g
340g light brown sugar
2 tsp vanilla
1 tsp Maldon sea salt flakes
2 eggs
275g plain flour
150g white chocolate caramelised
100g pecans roughly chopped
Method
Grease and line a square or rectangle baking pan with baking paper and preheat the oven to 175 degrees celsius.

Start by making the brown butter.

Melt the butter in a heavy based sauce pan. Keep on a medium heat, swirling occasionally for around 6-7 minutes until the butter is bubbling, and a rich golden colour. There should be small dark brown solids at the bottom of the pan which you can discard.

Pour the browned butter into a jug and allow to cool for around 10 minutes.

In a separate bowl, place the brown sugar, vanilla and salt. stir in the brown butter until fully combined. the oils from the butter might separate from the sugar, but don't worry, that's perfectly normal.

Making sure that the mixture isn't too hot to touch- add the eggs one by one mixing well.

Next add the flour and mix just to combine- do not over mix.

While the mixture cools we can prepare the caramelised white chocolate.

Chop the chocolate into small pieces and spread evenly onto a lined baking sheet.

Bake at 175 celsius for 12-14 minutes. The chocolate should be golden brown and semi-melted.

Remove from the oven and allow to harden for around 10 minutes. Break up into small chunks.

Add the chocolate chunks along with the pecans into the mixture and disperse throughout.

Pour the mix into the prepared baking pan and spread evenly.

Bake for 30 minutes.

Allow to cool in the tray, then cut into squares.
Enjoy!