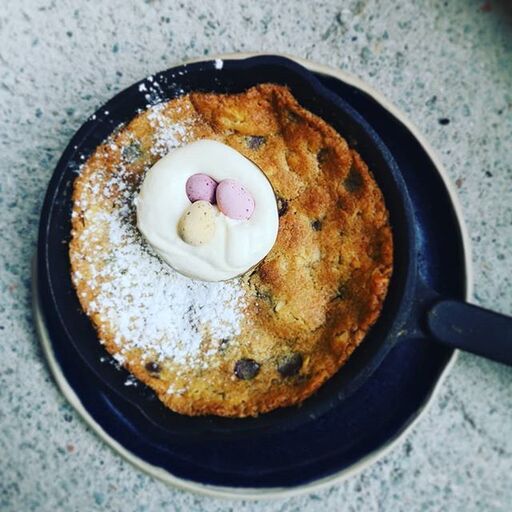 Hazelnut and chocolate chip- makes 4 cookies
depending on pan size
Skillet cookies are so easy to make and perfect for when you need some sugar in a rush. They can be ready from start to finish in less than 20 minutes. They are a perfect in-between of cookie dough and normal cookies. Warm and gooey with a crunchy exterior. A generous scoop of vanilla ice cream is the perfect accompaniment or a tall glass of milk for a late night snack.
Ten pm has always been my "I need something sweet…and fast" time, so I like to keep a small container of the cookie dough in my fridge, so all I need to do is bake and eat hot from the oven. If you're not a fan of nuts then alternatives such as fudge, white chocolate or your favourite chocolate bar work just as well.
60g caster sugar
60g light brown soft sugar
80g butter
150g plain flour
¼ tsp baking powder
¼ tsp bicarbonate of soda
½ tsp Maldon sea salt
Splash of milk
1 egg yolk
1 tsp vanilla extract
60g chopped hazelnuts
50g milk chocolate chips
Start by creaming together the butter, sugars and vanilla until pale and fluffy. Beat in the egg yolk, followed by all of the sifted dry ingredients. If the dough is feeling tight then add a splash or two of milk to slacken it slightly. Finally add the chopped hazelnuts and chocolate chips.
Butter your cast iron skillets generously and divide the mixture between them evenly. Press down into the pan with the back of a spoon until flat.
Bake at 170 degrees Celsius for 12 minutes until golden brown on top.
Eat warm with ice cream or whipped cream. You can always reheat in the oven for five minutes if making in advance.