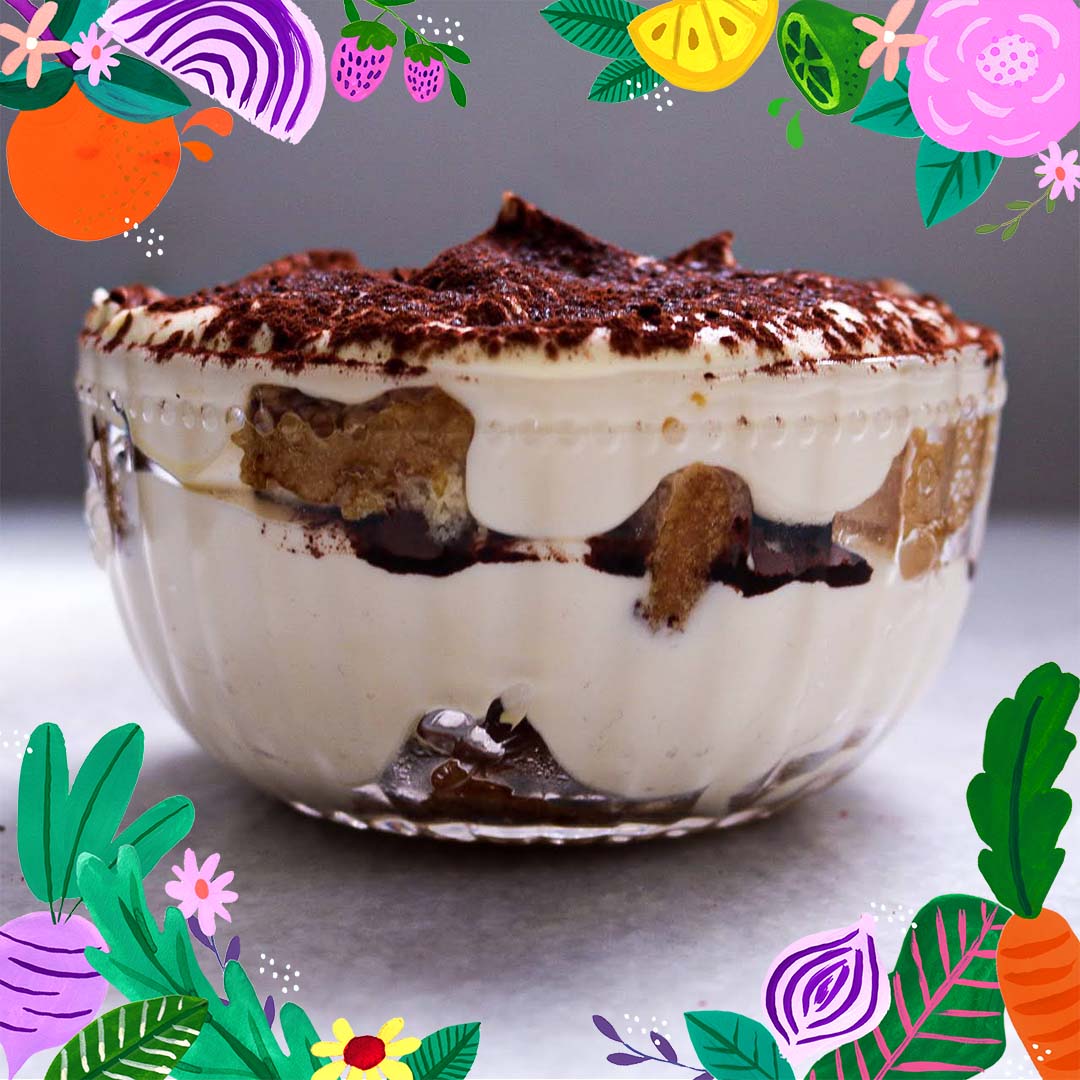 Dessert this week is a classic and elegant Tiramisu. This Italian masterpiece has got to be up there in my top favourite desserts of all time, the simplicity of it just sublime. I am a huge Coffee lover so it's no surprise that this hits the spot for me, but you don't have to be an caffeine addict to appreciate this dish. The Marsala Wine and dark Coco flavours add beautiful complex layers to cut through the creamy Mascarpone cream, to keep this dessert nice and light for the summer. This recipe is perfect for two people, I like to assemble mine in a small glass dessert bowl and share with two spoons, however simply scale up or down the ingredients to match your needs. The Tiramisu requires at least 4 hours of chilling time, so make sure to account for this time in your preparation. I find it useful to prepare the dish the night before and leave it to chill overnight. I would recommend eating this no later than a day or two after making it as things can get a little mushy in there.
Ingredients
1 shot Espresso
1 1⁄2 Tbsp Marsala Wine
1 tsp Vanilla
1 Tbsp Caster Sugar
200g Mascrapone
2 Egg Yolks
30g Caster Sugar
1 Tsp Marsala Wine
100ml Double Cream
6 Lady Fingers (sponge like Madelains work well too if you can't find the lady fingers)
Coco Powder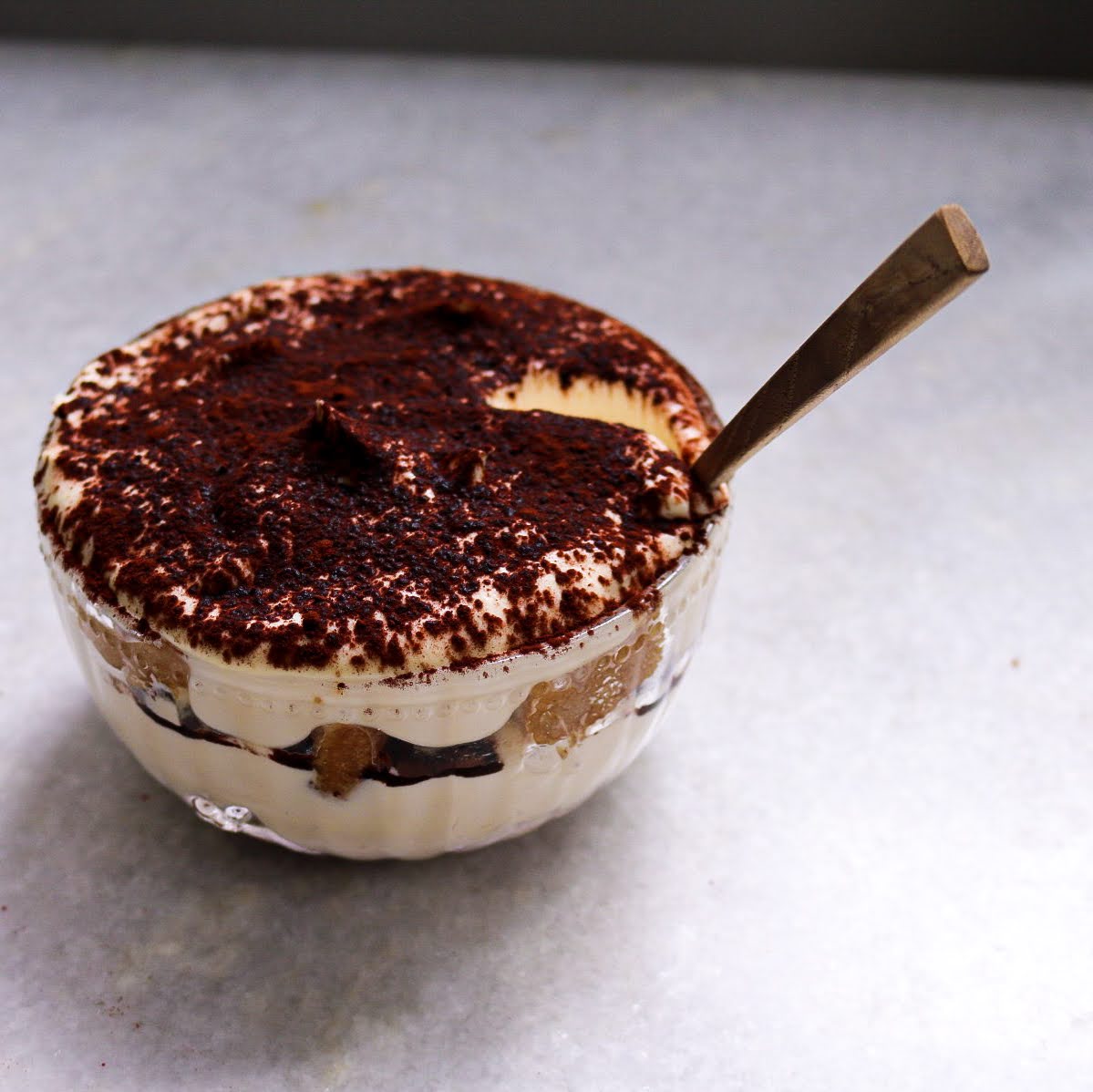 Method
Begin by combining the Espresso, 1 1⁄2 Tbsp Marsala Wine, Vanilla and Sugar in a shallow dish. Set Aside.

Bring about 2 inches of water to the boil in a sauce pan. Reduce to a simmer.

Select a heat proof bowl that sits nicely on top of the sauce pan. Add to the bowl the Egg Yolks,30g Sugar and 1 Tsp Marsala Wine.

Set the bowl on top of the steaming water and whisk the Eggs and Sugar vigorously. Continue whisking for roughly five minutes, until the yolks become light and fluffy and the sugar has dissolved. The mix should create a ribbon effect and be nice and thick and glossy. Remove from the heat.

In a separate bowl, whisk the Double Cream until it reveals soft peaks. Be careful not to over whisk, you want it to thick but not stiff.

Once the Egg mix (sabayon) is cool enough to touch, begin mixing it into the Mascarpone in thirds. you can be more heavy handed with the first third to get everything to combine smoothly, but try to be very delicate with the remaining folds to avoid knocking out too much air.

Fold the whipped cream into the mix gently.

Dip your Lady Fingers into the Espresso mix on both sides until saturated. Only hold them in there for a few seconds otherwise they will get too soggy and fall apart.

Arrange 3 of them on the bottom of your dish (I used a glass pudding dish fit for 2 people).

Spoon half of the Mascarpone cream on top of the Sponge and smooth over using an off set spatula.

Follow this layer with the remaining Espresso soaked fingers, followed with the remaining Mascarpone cream.

Smooth off the top layer of cream. Using a fine sieve, sift a thin layer of coco powder over the surface of the Tiramisu.

Refrigerate for at least 4 hours, or overnight, to allow the layers to meld together and set nicely.

Enjoy!