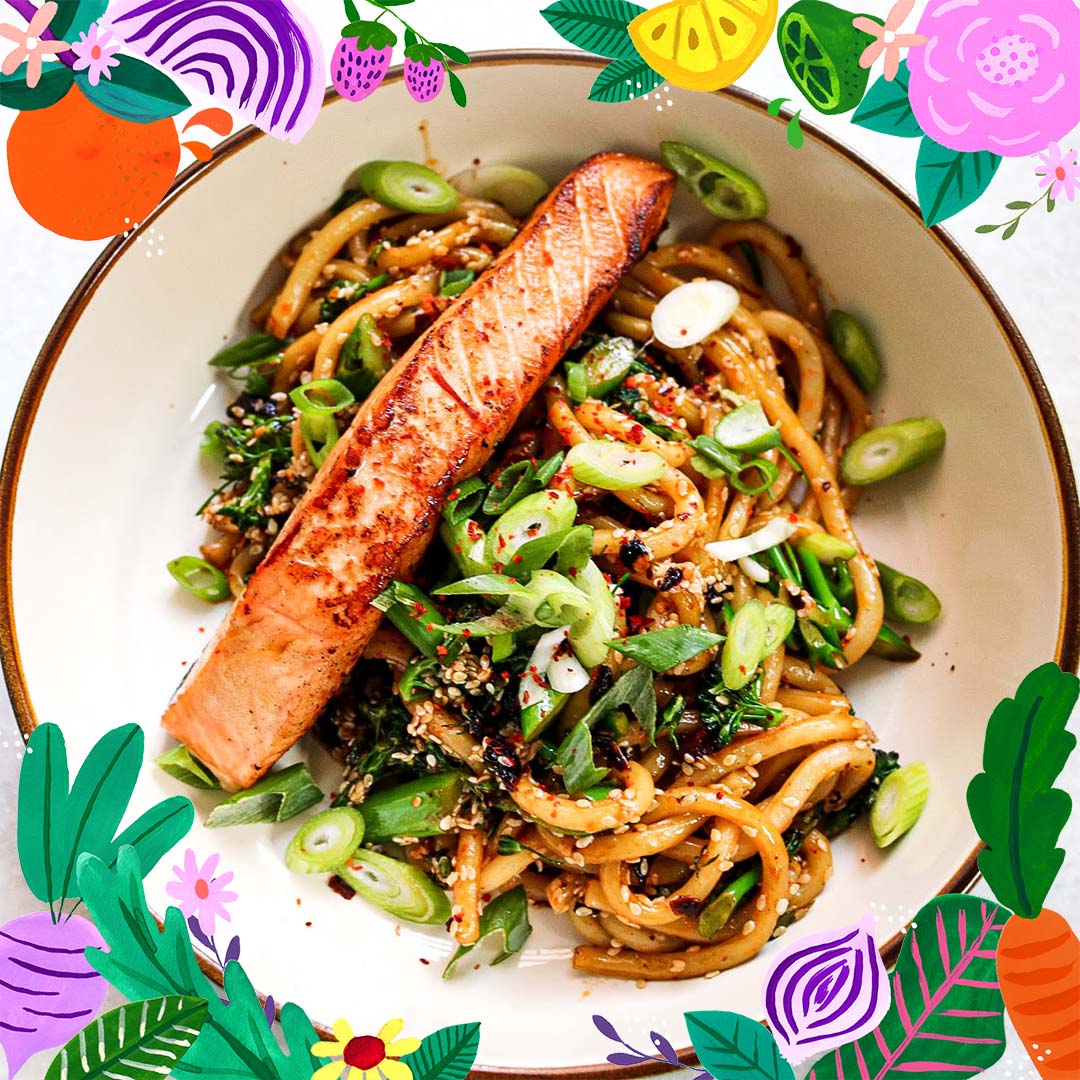 This week's Main is this easy supper of Teriyaki Salmon with Spicy Udon Noodles. For this recipe I have said to use store bought Teriyaki Sauce or paste as I find it super convenient and the flavour tends to be better than when I make my own, however I would advise that you buy a bottle from your local Asian Supermarket for the best quality (same goes for the Chilli Crisp, which is crispy chilli flakes in Oil which you can always find in an Asian Supermarket).
Ingredients (serves 2)
2 Salmon Steaks
4 Tbsp Teriyaki Sauce
2 Tbsp Coconut Oil
2 packets Udon Noodles
2 Spring Onions
4 Spears Tenderstem Broccoli sliced into 1cm pieces
1 Tbsp Chilli Crisp
Juice 1⁄2 Lime
1 Tbsp Sesame Seeds
1 Tsp Soy Sauce
Method
Begin by marinading the Salmon in 3 Tbsp of the Teriyaki sauce in a plastic tub or a dish with a lid and store in the refrigerator for around 3 hours.
Once marinaded, heat one Tbsp of the Coconut Oil in a non stick frying pan, once hot add the Salmon steaks skin side down and cook on medium high for 3 minutes.
Carefully flip the steaks onto its side and cook each side for 30 seconds and finally for one last minute on the top side. This will produce a Salmon steak that is slightly pink on the insides, so cook for longer if you prefer well done.
Once cooked on all sides remove from the pan and leave on a board, covered with foil, to rest while you prepare the Noodles.
In the same pan, heat the remaining Oil.
Add the Udon Noodles and the Broccoli and fry for 3 minutes.
Add the Chilli Crisp, Lime Juice, Sesame, 1 Tbsp Teriyaki and Soy and stir through and cook for a further 3 minutes until all hot and sticky and smelling great.
Transfer the Noodles to your bowls, top with the rested Salmon and sprinkle with thinly sliced Spring Onions.
Enjoy!