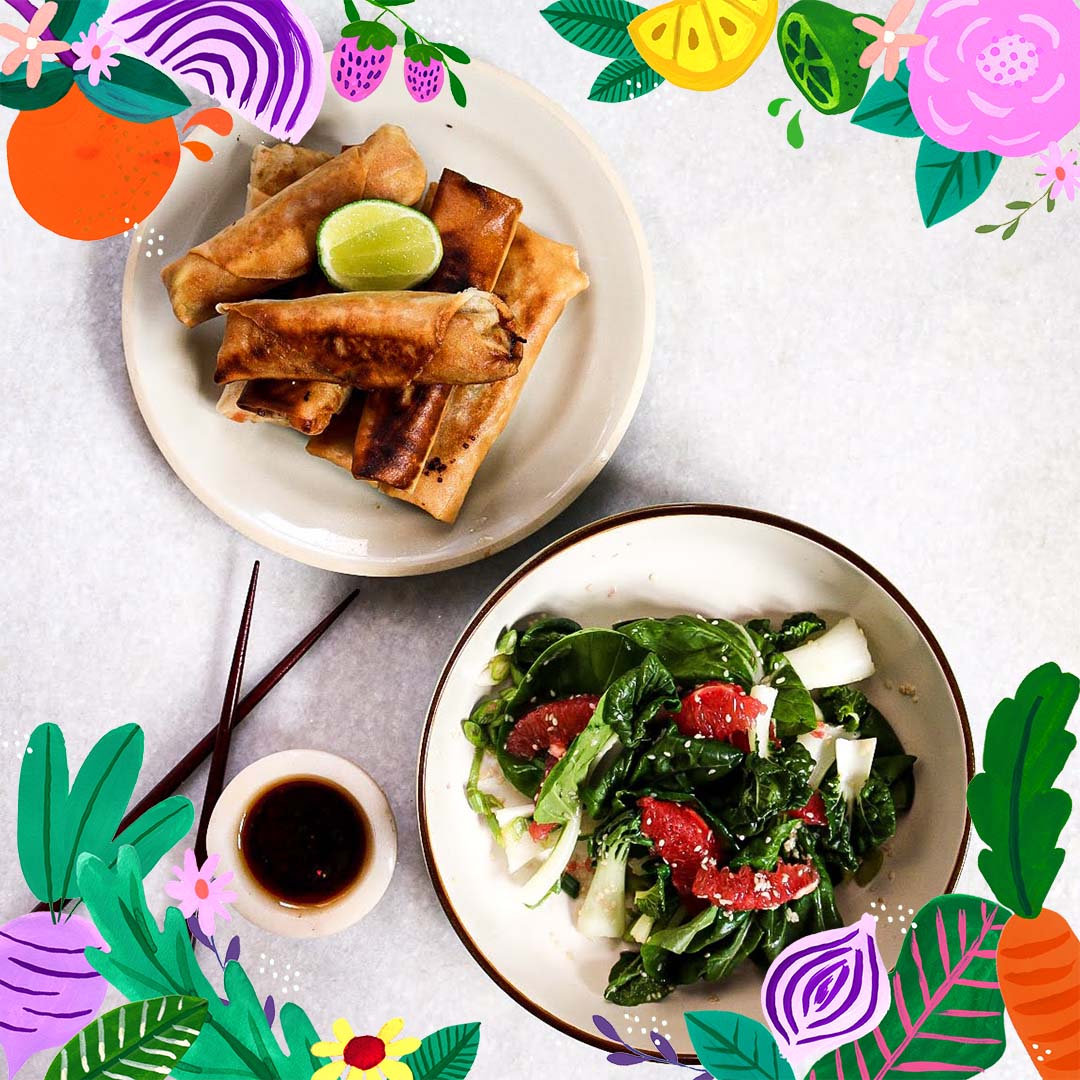 This week's main is one of my childhood favourites, veggie spring rolls with citrus salad. This was a dish I could never get enough of, crispy fried spring roll pastry filled with vibrant Asian flavours, perfectly balanced with the freshest citrus and Bok Choy Salad. This isn't the exact recipe from those memories, but this one I have crafted gives me all of the same good feelings, hopefully it will hit the spot for you too.
I originally wanted to make this dish Vegan, however after scouring through all of my local shops I couldn't seem to find Vegan Spring roll pastry, however if you can find the good stuff then go ahead and use it as the pastry is the only thing in the recipe keeping it from being Vegan.
This recipe is ideal for 2 people to share, but as always go ahead and adjust the quantities to suit it to your needs.
Ingredients (serves 2)
1⁄3 Chinese Napa Cabbage
1 Tbsp Coconut Oil
150g Bean Sprouts
100g Carrots sliced julienne
1⁄4 Bulb Fennel sliced julienne
2 Cloves grated Garlic
1 1⁄2 Tbsp Ginger based Hot sauce
Juice 1⁄2 Lime
1 Tsp Sesame Oil
1 Tbsp Soy Sauce
250ml Vegetable Oil
8 Spring Roll Wrappers
For the Citrus Salad
2 Bok Choy
1 Grapefruit
2 Tsp Sesame Seeds
1 Tsp Rice wine Vinegar
Juice 1⁄2 Lemon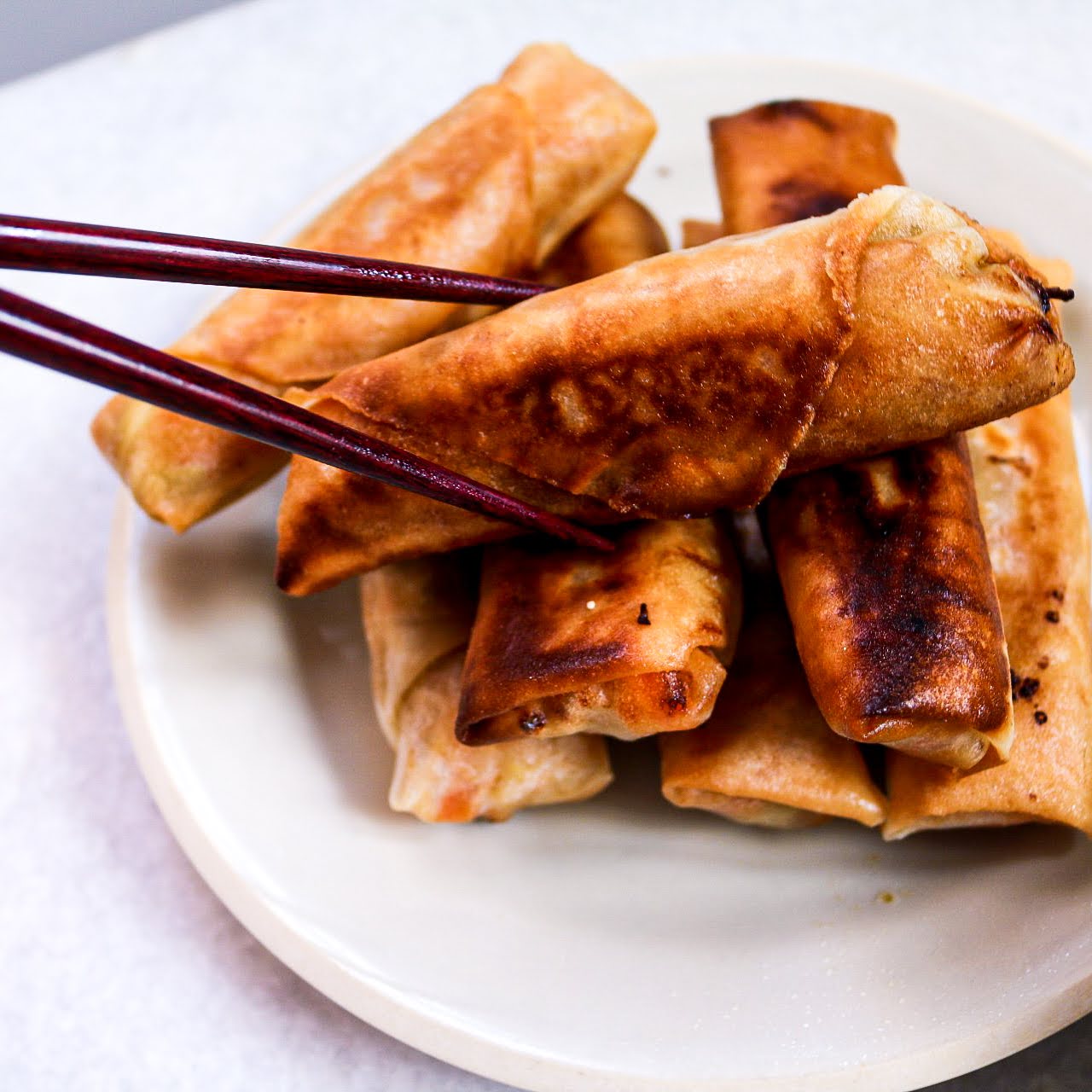 Method
Begin by preparing the vegetable filling for the Spring rolls.
Slice the Cabbage into thin long strips, try to get them as thin as possible, a sharp butchers knife will make this a lot easier.
In a wok or a large frying pan, heat the Coconut Oil for 30 seconds.
Add the following to the pan; Cabbage, Bean sprouts, sliced Carrot and sliced Fennel. Heat, tossing continuously for one minute.
Add the grated Garlic and cook for a further 30 seconds.
Add in all of the wet ingredients, the hot sauce, Lime juice, Sesame Oil and Soy sauce and toss through the veg until all evenly coated and cook out for one further minute.

Transfer the cooked Vegetable mixture to a bowl and set aside to cool slightly.

To form the spring rolls, begin by placing a sheet of Spring roll pastry onto a clean counter, one corner facing towards you.

Using a pastry brush, brush all four sides of the pastry with a little vegetable oil.

Spoon 2 Tbsp of the Vegetable mix onto the pastry, close the the corner closest to you, make sure the mix doesn't come too close to the sides as it will spill out.

Begin to roll up, starting at the corner closest to you, gently fold the pastry over to cover the veg mix.

Turn in the two sides into the middle and then fold over again. You should be left with a little triangle piece of pastry, simply just stick this down to the outside of the spring roll to finish.

You should be left with a tightly and neatly wrapped spring roll, with no filling visible and no exposed areas.

Repeat this process until you have used all of the Vegetable mix.

Heat the 250ml of Vegetable Oil in a large pan (or use a deep fat fryer if you have one). You want the oil to reach around 170 degrees Celsius.

Once the Oil has come to temperature you can start to fry the Spring rolls. Fry no more than 3 at a time, carefully place the rolls into the hot Oil and fry on each side for up to one minute. Once both sides are evenly golden, carefully remove from the Oil and transfer to a wire rack or some kitchen paper to soak up any excess Oil.

Repeat this frying process with all of the Spring rolls, you can keep them all warm in a low oven while you wait for them all to fry.
For the Citrus Salad
For maximum freshness do this just before serving.
Simply tear off the leaves of the Bok Choy, wash and add to a salad bowl.
Segment the Grapefruit with a knife (slice off the skin and slice between the membrane to produce segments). Add these to the salad bowl.
Add the other ingredients and give it all a big toss.
For the dipping sauce
mix the follow ingredients together and serve in dipping bowls with the spring rolls.
2 Tbsp Soy Sauce
1 Inch grated Ginger
1 Clove grated garlic
1 Tbsp Rice wine Vinegar
1⁄4 Tsp Sesame Oil
Juice 1⁄2 Lime
1 Tsp Chilli Oil
Enjoy!