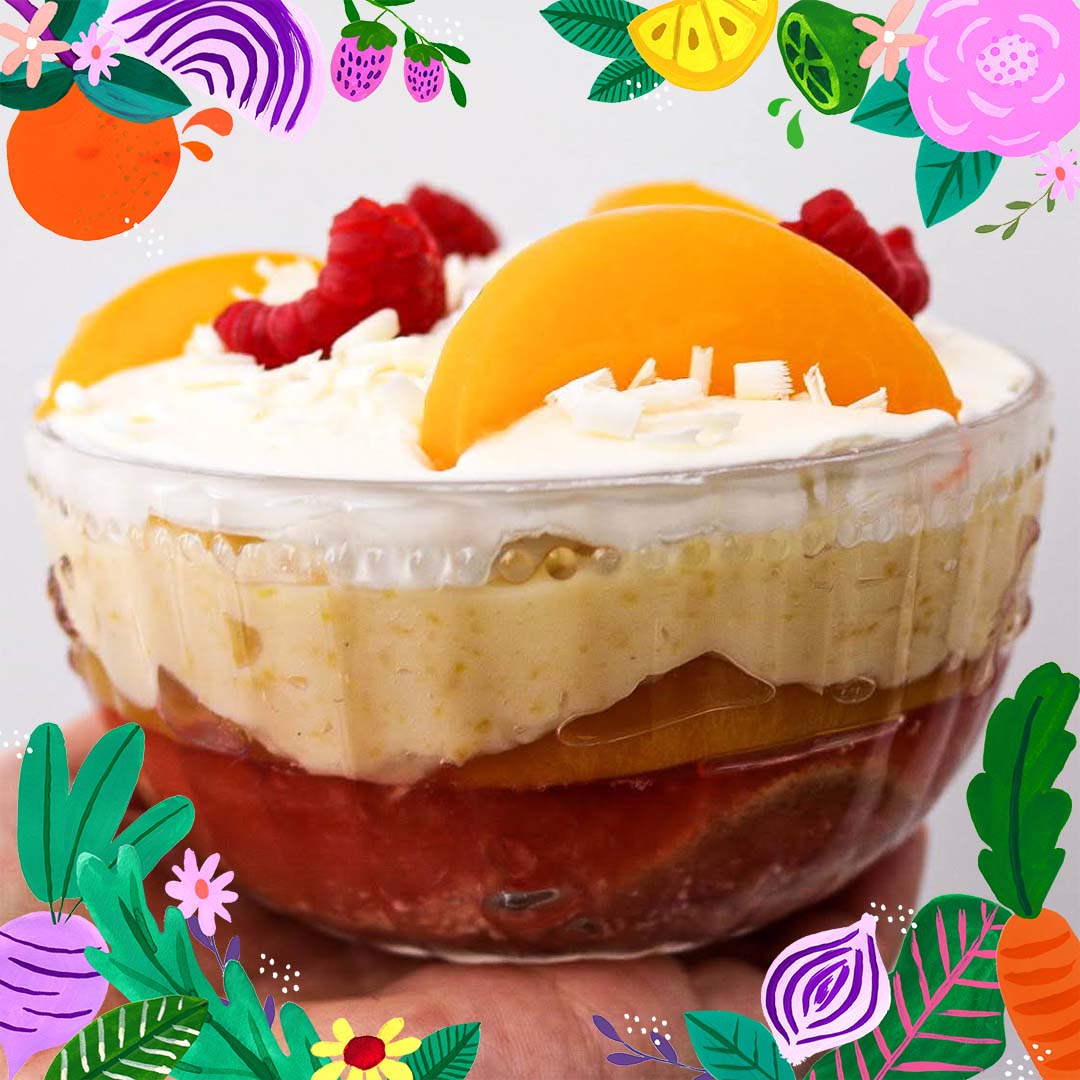 Hi Guys! This weeks Summer Dessert is a super delicious Peach, Prosecco & Raspberry Trifle. I know trifle is considered a more festive dessert, however with the substitutions of these fresh and Summery ingredients, there is definitely a place for this on my table this season.
This recipe has a few elements which require a lot of time and attention, so make sure to set aside an afternoon for this one. It is really essential to chill and set each layer in-between additions, I rushed it on my first attempt and was left with a sloppy soup of a trifle. You can make the whole thing the night before or even just a layer or two in advance.
I have included Gelatin in this recipe in leaf form. This is not Vegetarian, however if veggie gelatins are available to you then make this substitution following the correct proportions. I have always worked with leaf Gelatin as I find it easier to work with, but if you have powdered then make sure to check the correct conversion.
Also if you don't drink alcohol or are making this for a child, then feel free to substitute the Prosecco with anything like grape juice, elderflower cordial or even apple juice. Just think of what might taste good with the other flavours.
I made my Trifle in a small glass dessert bowl and found it a perfect size for two people to share. Yu can make yours in a large dish if you're making for more people and assemble in individual pudding dishes if you prefer. You may find that there is left over jelly and custard, don't over fill each layer, simply set aside any extras in a separate bowl for dessert another day (or snack as you cook like I did). This recipe is ideal for two adults, so scale up or down accordingly to suit you.
Ingredients (Serves 2)
For the Prosecco & Raspberry Jelly
7 Raspberries
1 Tbsp Caster Sugar
1 Tbsp Water
2 leaves Gelatin
150ml Prosecco
For the Peach Custard
6 tinned Peach slices
2 Tbsp Water
125ml whole Milk
25g Caster Sugar
2 Egg Yolks
1 Tbsp Plain Flour
1 Tsp Cornflour
Pinch of Salt
1 Tbsp Butter
2 Gelatin Leaves
For the Cream
120 ml Double Cream
25g Icing Sugar
2 Tbsp Prosecco
Additional Ingredients
6 Extra Tinned peach slices
3 Extra Fresh Raspberries
1 Almond/Lady finger biscuit (Amaretti cookies work well too- the almond flavour adds a lot.)
Few shavings of White Chocolate
Method
Begin by slicing the almond/lady finger biscuit, arrange in the base of your chosen trifle dish. Set aside.
To make the Jelly
Soak the Gelatin leaves in cold water.

Blend together the Raspberries, Sugar and Water until smooth.

Combine the Raspberry puree with the Prosecco and bring to a gentle boil in a small saucepan.

Add the softened gelatine into the hot liquid and stir to dissolve.

Allow the jelly to cool in the pan for 10 minutes before pouring over the sponge fingers in the dish. you want the jelly to rise around 1⁄3 of the way up the dish.

Place in the fridge and allow to set for 2 hours or until firm to the touch and solid.

Meanwhile prepare the Custard.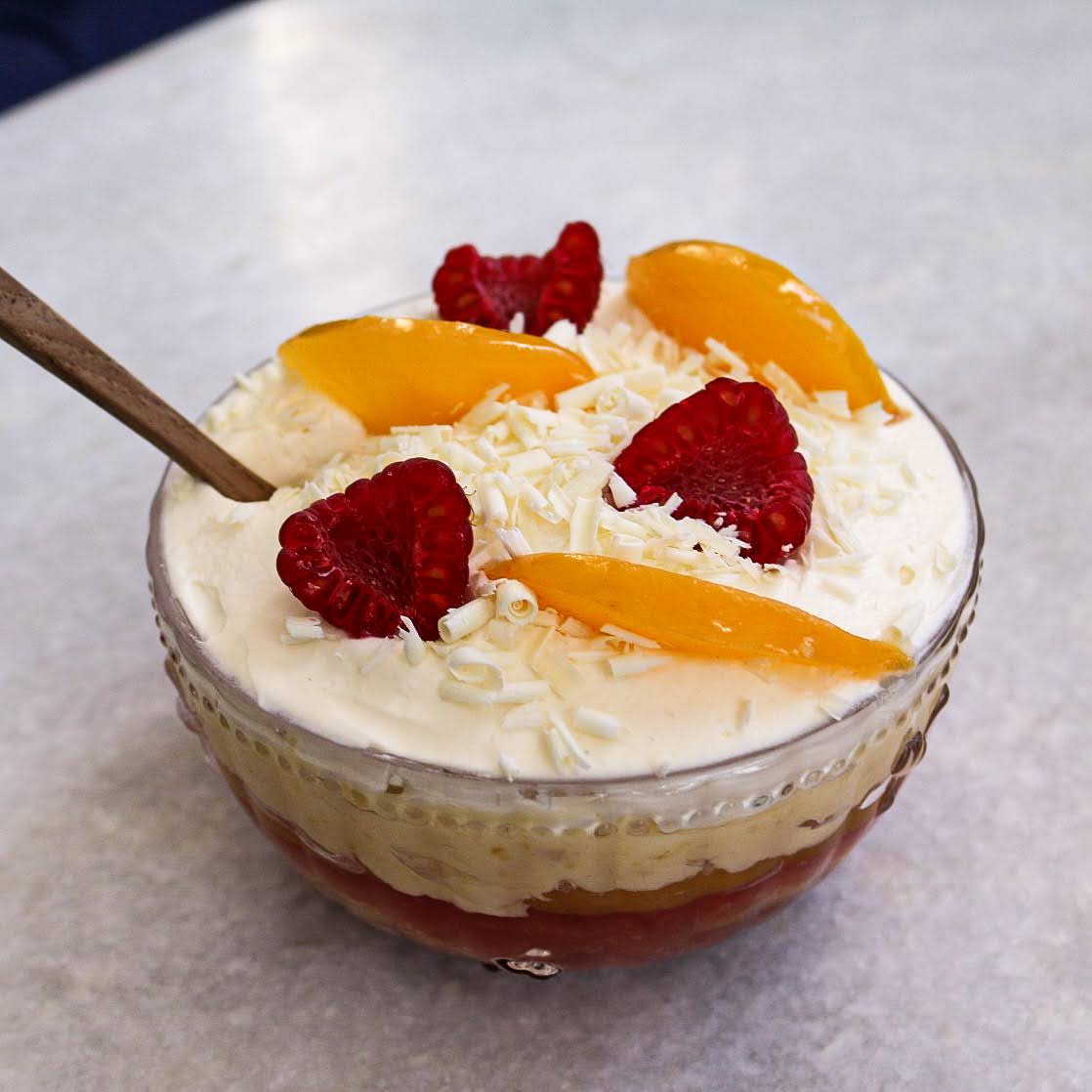 For the Custard
Blend together the peach slice with the water to form a smooth puree.

In a bowl, whisk together the egg yolks, Sugar, Flour, Cornflour and Salt until smooth and combined. Around 1 minute.

Soak the Gelatin in cold water.

In a heavy based sauce pan, Bring the milk to a simmer.

Slowly stream the hot milk into the yolk mixture, whisking continuously. This is called tempering, you should do this very gradually to avoid the hot milk from cooking the eggs.

Transfer the custard mix back into the pan and return to a low heat.

Whisk or stir continuously until the custard begins to thicken. Once it begins to thicken, continue to stir, cooking out for another 2 minutes. Be careful not to over heat the mix as this will cause the eggs to scramble and the custard will be lumpy.

Add the Gelatin, followed by the Peach puree to the thickened Custard and stir to combine.

Transfer to a dish, cover the surface with cling-film and refrigerate until ready to use in the trifle.

Once the Jelly layer has fully set, arrange around 5-6 Peach slices in layer on top.

Spoon over the cooled Custard (if it has set firm, vigorously beat with a spoon to make spreadable again) and smooth into a layer using an offset spatula or the back of a spoon. This should fill the dish up another third. Keep any excess custard in the fridge to use with other desserts as you like.

Return to the fridge to set for around half an hour.
For the Cream
Whisk the Cream and Icing Sugar together in a large bowl until it forms soft peaks.

Now add the Prosecco 1 spoonful at a time and whisk until fully combined. Do not over whip, you want glossy, smooth soft peaks.

Smooth the whipped cream over the set Custard layer. This should fill your dish.

Arrange sliced Peaches, Raspberries and shaved white Chocolate over the top as you like.
Enjoy!