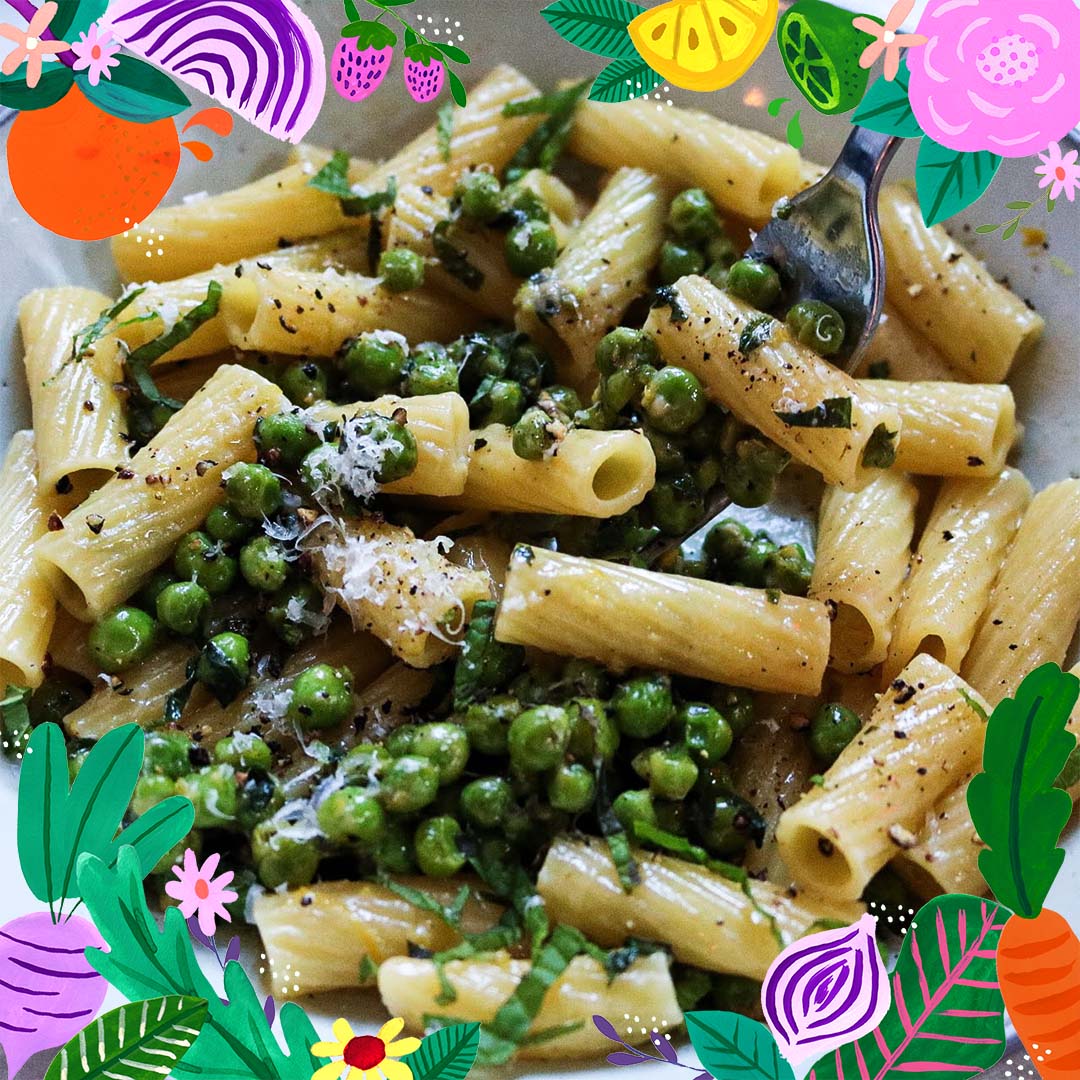 The final week of Summer, Sweets and Supper is finally here, after a long hot summer filled with delicious recipes and lots of things going on in the world, I thought it fitting to leave you with one of my easiest comfort food recipes to close this project and the bring in the Autumn.
This dish is a big comforting bowl of Rigatoni Pasta, Peas, Parmesan and Mint. I love to cook this up after a day of work, when I want something filling and home cooked without any of the effort.
Other Pasta varieties will work great too, Rigatoni just happens to be my favourite.
Ingredients (serves 2)
200g Rigatoni
40g Salted Butter
150g Frozen Garden Peas
zest 1 Lemon
1 Clove Garlic crushed
4 sprigs fresh Mint sliced julienne
80g Parmesan finely grated
Juice 1⁄2 Lemon
Salt and Pepper
Method
Begin by bringing a large pan of salted water to the boil.
Add the Rigatoni and set a timer for 10 minutes.
Meanwhile heat a large skillet or non stick frying pan over a medium heat and add 30g of the Butter.
Once the butter starts foaming, add the Peas, crushed Garlic and Lemon zest.
Heat, stirring around the pan for 2 minutes then add sliced Mint and the grated Parmesan.
Add a ladle of the pasta water to the skillet and mix into the Pea and Parmesan mix to make a creamy emulsified sauce.
Once the pasta is ready, drain and add to the skillet along with the Lemon juice and the remaining 10g of Butter.
Mix together until everything is nice and saucy and evenly coated. If the sauce looks too thick then add a bit more of the pasta water.
Season with Salt and Pepper and serve immediately in pasta bowls with a final grating of fresh Parmesan.
Enjoy!