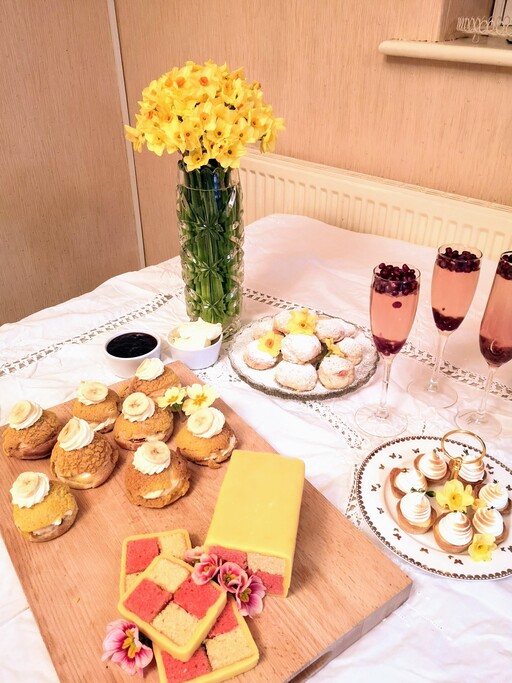 With Mother's Day just around the corner (in the UK at least) I thought it might be fitting to share some of my top picks to feature on an afternoon tea for this occasion.
Whether you're an amateur home cook, a professional or someone just looking to give their mother a treat, hopefully you will find inspiration from this.
Seeming as the day falls in the spring I find it best to use produce seasonal to this time. Fruit such as rhubarb, lemons , pomegranate and bananas are all at their best right now.
I find a lemon meringue tart a timeless classic and always a solid place to start. They are one of my family's favourites, a big hit with both children and adults. Passionfruit and yuzu work as good alternatives to lemon if you want to move away from the traditional. A home cooks blow torch will come in handy for these, to lightly brown the meringue top. Alternatively you could brown under a grill or leave the tops bright white.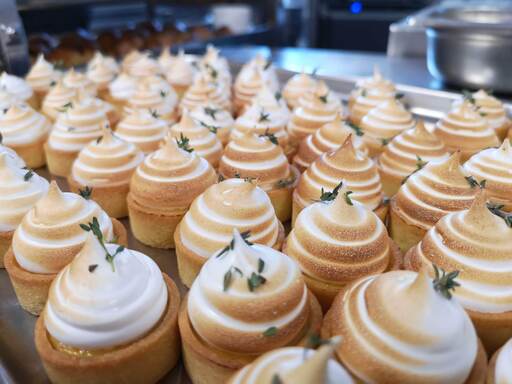 Battenberg is definitely worth the work. It makes for a fun afternoon of baking and comes with great satisfaction. I made mine using a battenberg tin, which divides up the four segments for you which i would highly reccomend. My mum and I both adore this cake and it is deffinatley one we will continue to make.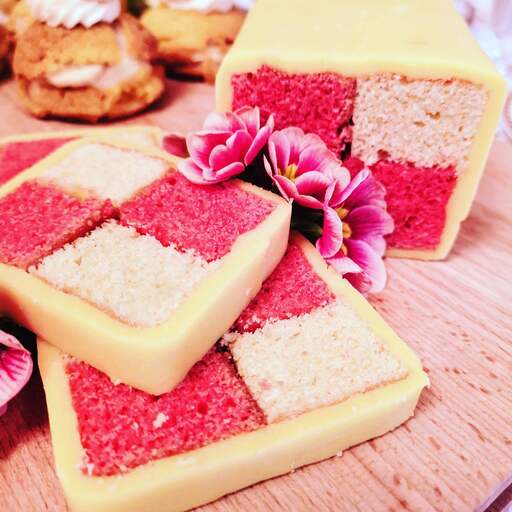 I find a jelly or a posset a good contrast to a sponge or pastry. This pomnegranate and prosecco jelly is refreshing and full of flavour. If you are vegetarian or vegan then other setting agents such as agar agar or gellan gum work really well instead of gelatine. If you are using gelatine then i would reccomend making these the night before, as sometimes the alcohol content extends the setting time. I served these jellies in champagne flutes, but any jelly mould or container will work just fine.
My next pick is macarons. I've chosen a bold flavour but if you find this a bit much then check out my other post for more macaron flavour ideas. Lavender and earl grey are both flavours that remind me of my grandmother, making lavender bags in her garden in the summer holidays and the smell of brewing tea from the patio. Keep it subtle on the lavender though, a little goes a long way.
I couldn't resist adding banoffee into this some way or another, it's just so good. These choux buns look so pretty and fun. You can make the pastry in advance and fill them just before you're ready to serve.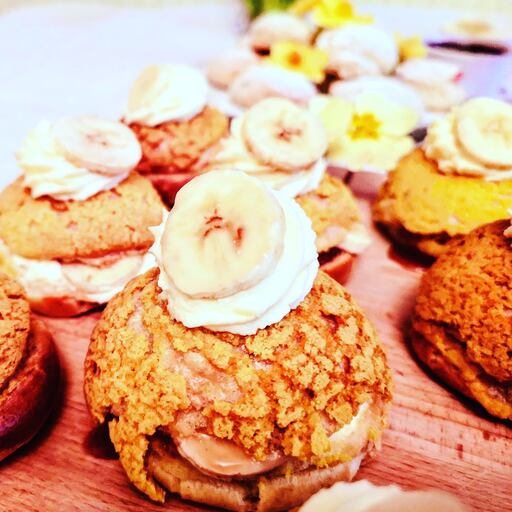 What is afternoon tea without some killer scones. I make mine with buttermilk to add fluffiness and a deeper flavour. Rhubarb adds a beautiful contrast that I find hard to beat this time of year with a sprinkling of orange to really bring the flavour out. Serve with your favourite jam and a thick custard cream.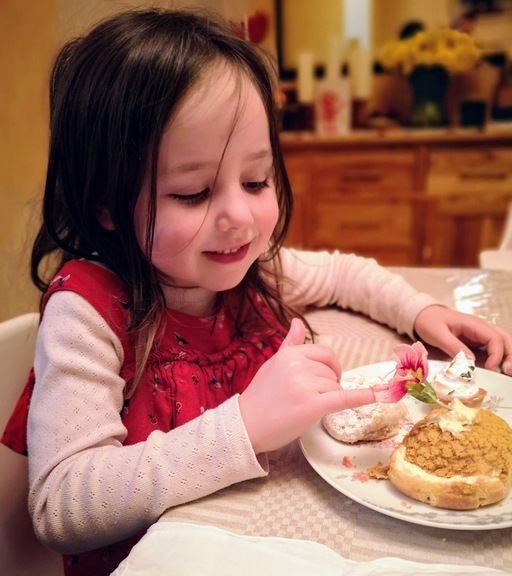 As for sandwiches, I like to include two meat, one fish and one vegetarian option. However tailor this to meet your preference or diet. Here are some of my favourites for you to choose from.
Emmenthal and pastrami
Egg, fennel and cress
Crayfish and Asian slaw
Smokey sweetcorn hummus, chilli oil and coriander
Pesto, ricotta and sunblushed tomato
Roast beef and horseradish