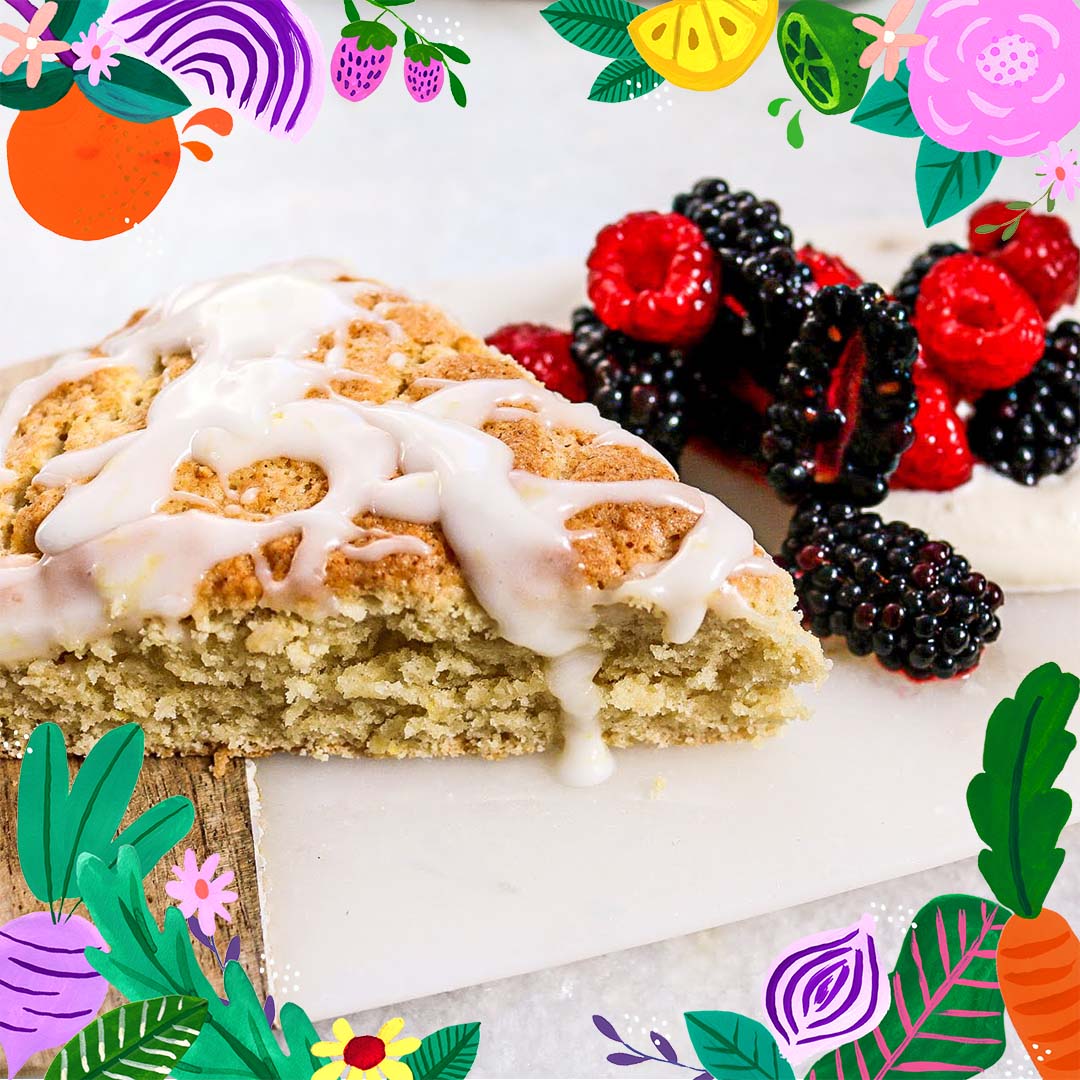 This week's breakfast recipe is a real treat. Freshly baked Lemon scones is not your average breakfast but it's certainly one I can get behind. These are based of American style scones, which are baked in a round scored into triangular wedges. I find these a lot lower maintenance than their English counterparts, which is perfect for a lazy morning. I have found that Buttermilk can be especially difficult to get in most shops, so I have included a really simple way of making your own using Milk and lemon juice. The acid in the Lemon splits the Milk and leaves it thick and curdled like Buttermilk.
This recipe yields 8 large Scone wedges. They will keep for 2 days or so but are definitely best eaten fresh, so feel free to scale up or down the recipe to suit you. I like to freeze any I don't eat on the day individually, wrapped tightly in cling film. Defrost the night before and warm through in the oven.
I enjoy these breakfast scones with some fresh seasonal Berries and a spoonful of whipped fresh cream. Alternatively, butter, jam and other spreads work well too.
If you fancy playing with other flavours or fillings, go ahead and add what you like to the base recipe. Blueberries make a great addition, as do chocolate chips and chopped hazelnuts.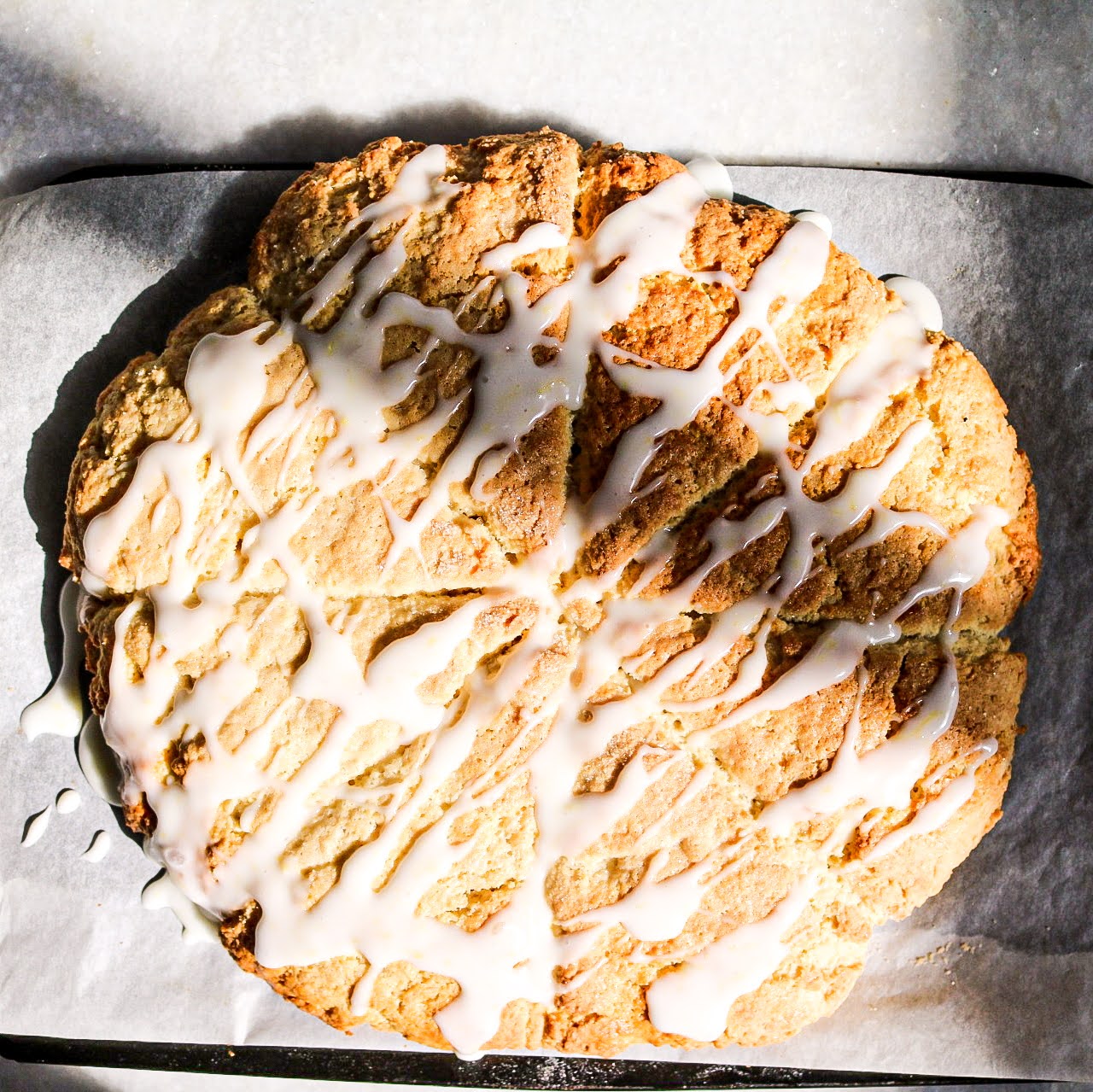 Ingredients (Makes 8)
450g Self Raising Flour
1 tsp Baking Powder
1 tsp Salt
200g Butter
100g Caster Sugar
1 Egg
100ml Buttermilk (or 100ml milk with the juice 1⁄2 a lemon)
Zest 1 large Lemon
Milk and Sugar to wash
For the Lemon Icing
20ml Milk
Zest and Juice 1⁄2 a Lemon
140g Icing Sugar
Pinch Salt
Fresh Berries and Lightly whipped Cream to Garnish
Method
Preheat the oven to 180 degrees celsius. Line a large flat baking tray with baking parchment, sprinkle lightly with flour and set aside.

In a large bowl sift together the Flour, Baking Powder and Salt.

Cut the butter into cubes and rub into the flour using fingertips until it resembles breadcrumbs.

Add the sugar and mix to combine.

If you're making your own buttermilk, Squeeze the lemon juice into the milk and stir vigorously. Let stand for 5 minutes. It should become thick and a little lumpy.

In a jug, beat the Egg into the buttermilk. Add the Lemon zest.

Pour the wet mix into the flour mix and gently bring together to for a dough. Do not over mix as it will make your Scones tough. The dough should be quite wet.

Transfer the dough onto the lightly floured baking tray and gently pat into a large disk around 2 inches thick.

Brush the top of the dough with a little milk, then sprinkle about a tablespoon of sugar over the top to make them crunchy when baked.

Using a sharp knife, Score the dough into Eight equal triangles. Score about 3⁄4 of the way through, keeping the wedges in the circle.

Bake the scones for 25 minutes. They should appear risen and puffed out and golden brown in colour.

Remove from the oven and allow to cool on the tray for 10 minutes before handling.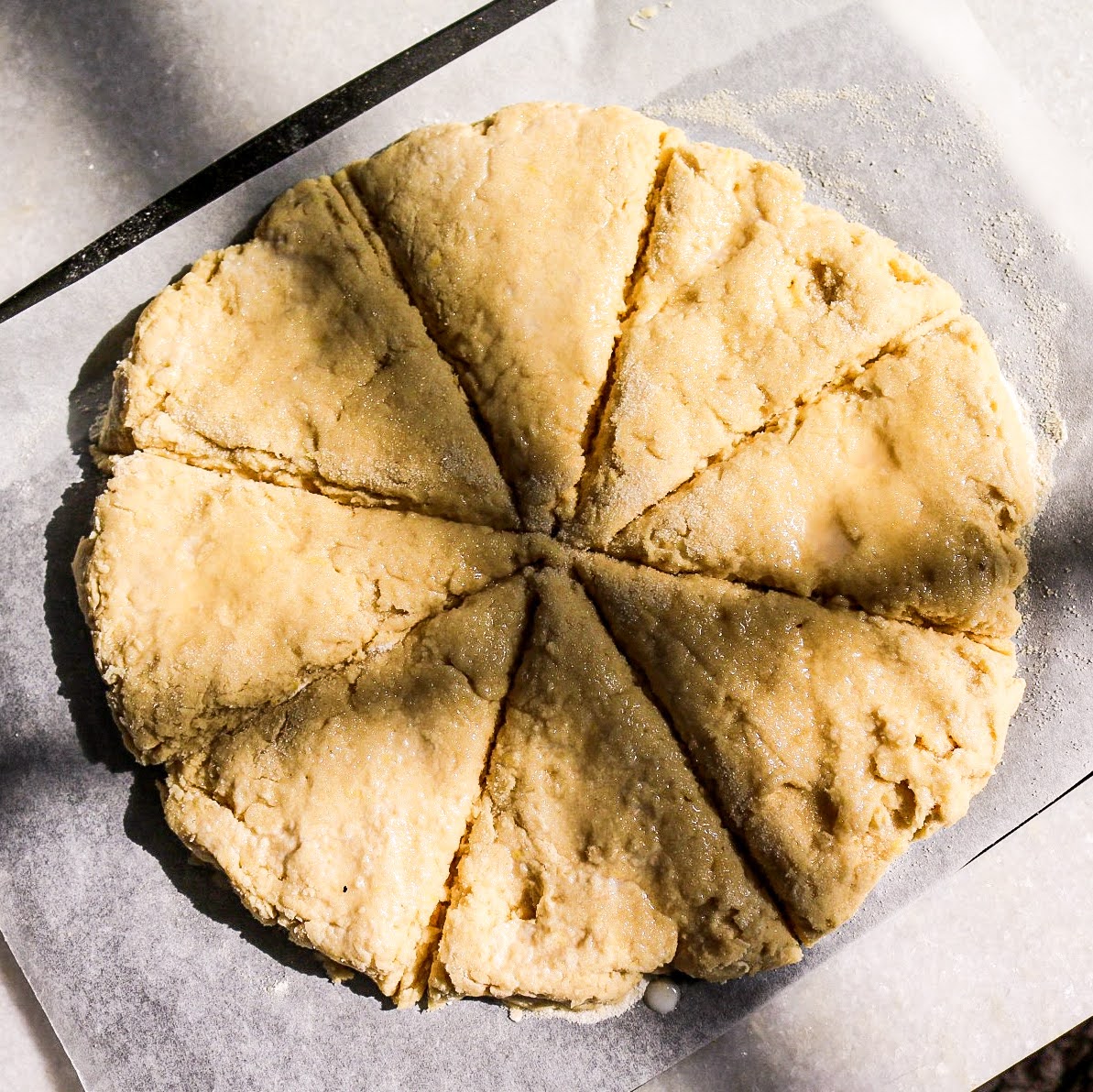 For the Lemon Icing
In a small bowl, whisk the icing sugar, lemon and salt together.
Gradually pour in the milk, whisking as you go to produce a smooth and thick drizzle.
When the scones and cool enough to handle, drizzle the icing liberally over the top.
To Serve
Cut out a portioned triangle and arrange on a plate. Serve with freshly whipped or clotted cream and fresh berries tossed in icing sugar and lemon juice. Alternatively serve warmed through with Butter, Jam or Lemon Curd.
Enjoy!