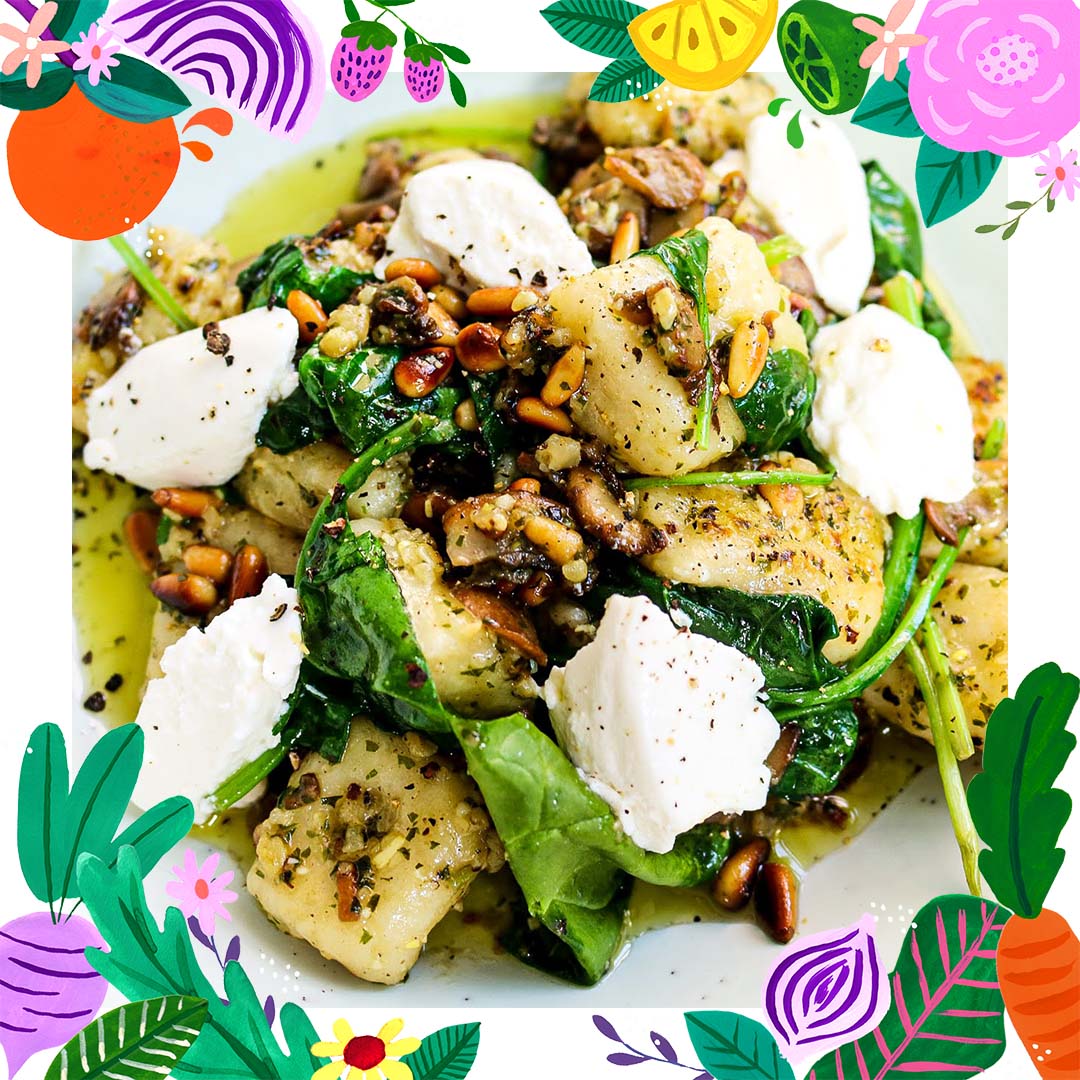 This week's main dish is a delicious combination of handmade Potato Gnocchi, freshly made Basil Pesto, Mushrooms and Ricotta. I am a huge Gnocchi lover, though I must admit, making my own has always seemed quite daunting. Over the past few weeks I took the plunge and began to master making it by hand, and it was both simple and enjoyable, and the finished product was so delicious, I can't see myself going back to store bought. The recipe for the Gnocchi itself is taken from 'Basics with Babish' as I found it was really perfect for this dish. This recipe produces enough Gnocchi for around 4, so if you're only cooking for 2 I would still recommend making the full quantity and freezing the other half. The rest of the recipe is measured for 2.
The Pesto here is really simple too, just throw everything into a blender and that's it, beautifully fresh and vibrant pesto in minutes. I like to double up the pesto recipe to have a store in the fridge to use throughout the week.
I have chosen chestnut Mushrooms for this dish, I find them earthy and nutty which compliments the other elements, plus they're really easy to find in the supermarkets. Wild mushrooms would be fantastic here, and if you can find them I am jealous and urge you to use the.
I really hope you enjoy creating this gorgeous meal, and find it as rewarding as I do to make everything yourself from scratch.
Ingredients (serves 2)
For the Gnocchi
4 large baking Potatoes
1 Egg Yolk
100g Plain Flour (plus extra for dusting)
For the Pesto
2 cloves Garlic
1 bag of Fresh basil (around 30g)
20g finely grated Parmesan
60ml Olive Oil
40g Pine nuts
Juice 1⁄2 a Lemon
1 tsp Salt
freshly ground Black Pepper
For the Mushroom sauce
10 Chestnut Mushrooms thinly sliced (wild Mushrooms would be great too)
Salt
Pepper
1 Tbsp Olive Oil
1 Tbsp Butter
4 Tbsp Pine nuts
2 handfuls Spinach
80g Fresh Ricotta
Method
For the Gnocchi
Preheat the oven to 190 degrees celsius. Spike the potatoes all over using a fork and bake for 1 hour.

The skins should appear crispy. Carefully remove the skins straight away using a knife and a towel to protect your hands from the heat. Watch out for steam burns.

Transfer the fluffy potato insides to a bowl and refrigerate for 1-2 hours until fully chilled. Discard the skins.

Using the fine side of a box grater, grate the potatoes finely into a dish and spread out.

Break up the yolk in a small bowl and carefully drizzle evenly over the potatoes.

Sift the flour over the Potatoes evenly.

Using a dough scraper or your hands, carefully blend all of the ingredients together, ensuring there are no dry spots, and bring into a ball.

Kneed the dough by hand for around 2 minutes.

Once the dough is smooth, roll into a log and divide into four equal portions on a lightly floured surface.

Roll each portion into a long, thin sausage ( about and inch thick). Using a dough scraper or a sharp knife, divide each sausage into little Gnocchi dumplings, about 1-2 inches wide.

Press your finger into the center of each dumpling to for a dimple in the middle, this will be great for catching more sauce in the final dish.

Repeat this process until all of the Gnocchi dumplings are formed. Set aside on a well floured surface.

If making ahead of time or making extra, freeze the Gnocchi in a single lager on a well floured ad lined baking sheet. Once frozen solid, transfer to zip lock freezer bags, this way they wont stick together. Store in the freezer for up to four months.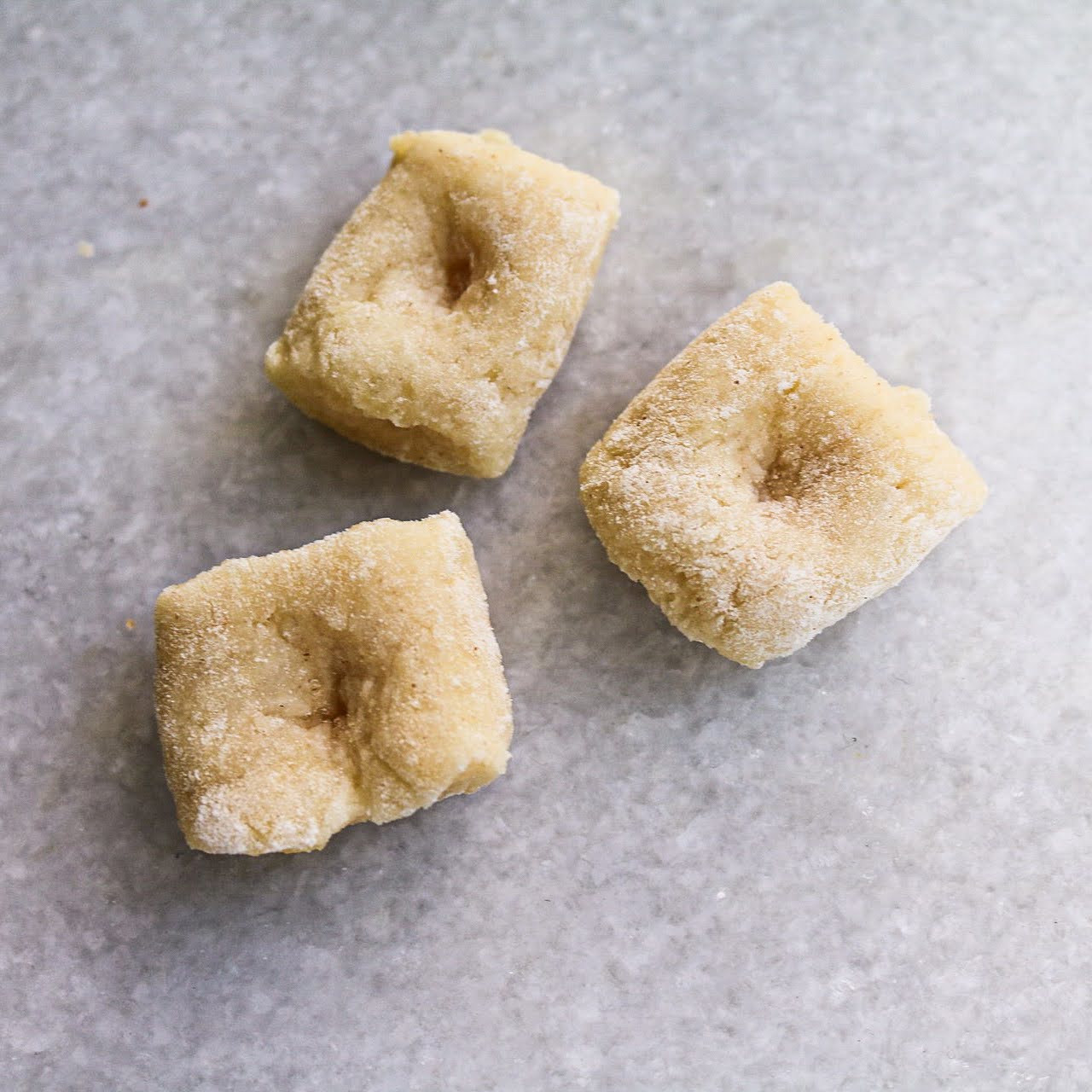 For the Pesto
Simply blend all of the pesto ingredients together in a food processor until smooth. Its okay if the pine nuts don't break down completely, it adds a nice bit of texture.

You can make this in advance and store in a sealed jar or container in the fridge for up to one week, or use right away.
For the final dish
Have ready a large pot of salted boiling water.

Begin by heating the Olive oil and Butter in a large skillet.

Add the sliced Mushrooms and Pine nuts. Cook on a medium high heat.

Cook for around 5-6 minutes until both the mushrooms and Pine nuts begin to toast and brown. The butter and oil should be foaming nicely.

At this point, add your Gnocchi (you want about 8-10 pieces per person) to the boiling water and cook for around 90 seconds or until the pieces float the the surface of the water.

Once cooked, collect the Gnocchi with a slotted spoon and add to the pan with the mushrooms.

Season well with Salt and Pepper, and toss the Gnocchi through the mushroom sauce whilst on a medium heat.

Add 2-3 Tbsp of the Pesto to the pan.

Finally add the Spinach, along with a couple of table spoons of the Gnocchi water. Continue to toss for one minute, making sure everything is well coated, thick and glossy.

Serve hot, in deep pasta bowls. Spoon small pieces of the fresh Ricotta around and over the dish and, If desired, grate fresh Parmesan over each portion.
Enjoy!