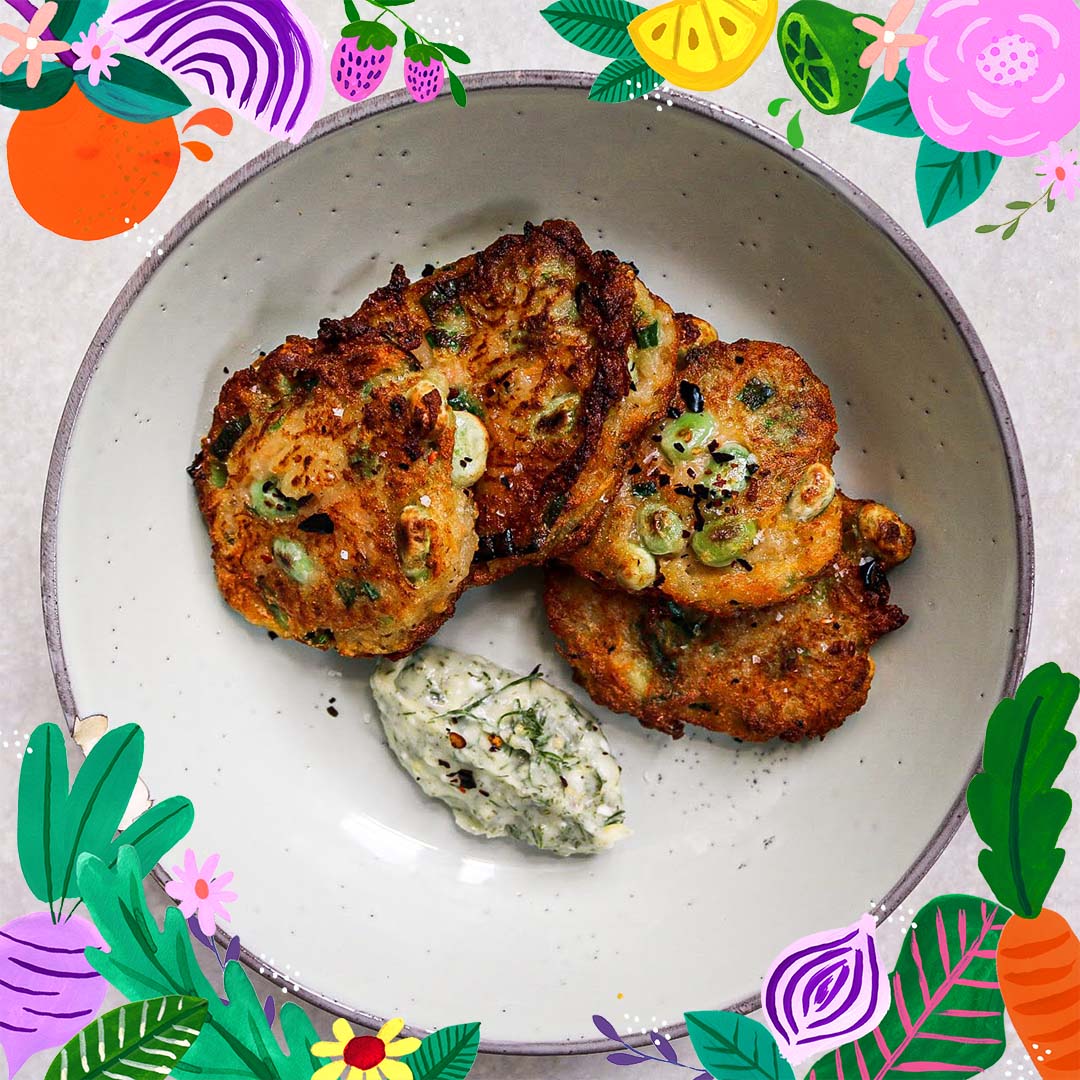 This week's Breakfast recipe is crispy and fresh Tempura Vegetable Fritters. This recipe is fully Vegan and delicious, and makes for a great Brunch with friends and family. I have included a selection of Vegetables I like to use but feel free to use what you like best and whats in season. Equally you can spice things up by adding fresh chilli or serving with your favourite hot sauce.
The Tempura batter keeps everything light and crispy and helps to prevent the fritters from absorbing excess oil, just make sure to use icy cold sparkling or tonic water for the best results.
Ingredients (serves 2-3)
120g grated cooked Potato
100g grated Carrot
2 thinly sliced Spring Onions
100g frozen Sweetcorn, peas or Broad Beans
1 tsp Salt
Black Pepper
45g Plain Flour
1⁄2 tsp Salt
1⁄2 tsp Sugar
100ml chilled Tonic or Sparkling Water
For the Dill Cream Cheese
95g Vegan Cream Cheese
Pinch Salt and Pepper
Zest and Juice of 1⁄2 a Lemon
10g Chopped fresh Dill
1 Tbsp Rapeseed Oil
Chilli flakes
100ml Vegetable Oil for frying
Method
Begin by combining all of the prepared vegetables in a bowl with the Salt and Pepper and mix together.

In a separate bowl prepare the Tempura Batter. Whisk together the flour, Salt and Sugar.

Slowly whisk in the Tonic water to form a light and smooth batter.

Heat the Vegetable Oil in a not stick frying pan over a high heat.

Pour the Tempura batter over the mixed veggies and mix until fully combined.

Take around 2 Tbsp of the fritter mix and dollop into the hot oil. You should be able to fit two or three portions in the pan at once.

Fry for 2-3 minutes, until deep brown and crispy.

Carefully flip over using a fish slice or spatula and fry the other side for a further 2-3 minutes.

Transfer the fritters to a paper towel to soak up any excess oil. Sprinkle with Salt.

Repeat this frying process until all of the fritter mixture is used up.

To make the Dill Cream Cheese;

Simply Combine all of the ingredients together and mix with a spatula until creamy and smooth. Season to taste. You can add Chilli flakes for a kick of heat.

Serve the fritters whilst they're warm and fresh with a big spoonful of the Cream Cheese on the side.
Enjoy!