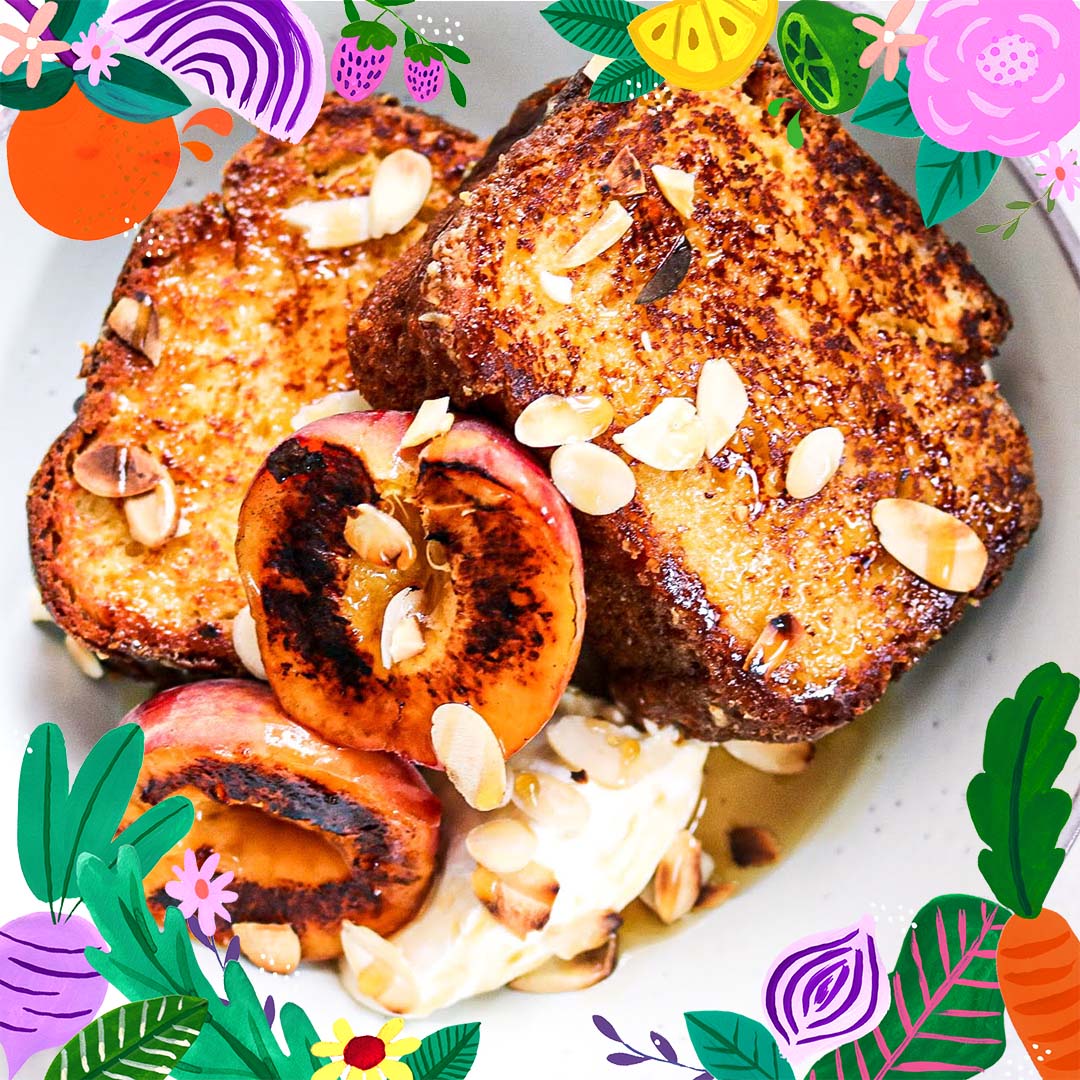 Here is my take on a Summery French Toast, garnished with grilled fresh Peaches and toasted Almonds. I have included a recipe for you to have a go at making your own Brioche loaf to use as the bread for the french toast, but feel free to use store bought if this doesn't appeal to you. If you do decide to go for your own brioche, bare in mind that you will have to begin preparing it the day prior to using it for the dish as it requires overnight proving. If peaches aren't your thing then this works great with all stone fruit like Plums and Apricots so please use your favourites. This recipe is perfect for 2, but absolutely feel free to scale up or down to suit your needs. I hope you have fun with this dish and find it as delicious as I do.
Ingredients (Serves 2)
For the Brioche
3 Eggs
120g Room temperature Butter
310g Plain Flour
2 Tsp Active dry Yeast
25g Caster Sugar
4g Salt
Around 60ml Warm Water
1 egg yolk
splash Milk
For the French Toast
2 Egg Yolks
100 ml Whole Milk
50g Caster Sugar
1 Tsp Vanilla extract
Pinch ground Cinnamon
40g Toasted Flaked Almonds
2 ripe Peaches, halved and pitted
1 Tbsp Butter
2 Tbsp Creme Fraiche
Maple Syrup for drizzling
Method
For the Brioche Loaf
If you are making your own Brioche, begin this the day before you plan on making the french toast.
Make sure all of your ingredients are at room temperature before beginning. In a large bowl of a stand mixer combine the Flour, Salt, Sugar and Yeast. Mix with a dough hook or a beater to combine.
Add the Eggs one by one, making sure each is well incorporated before the next. Once all of the eggs are incorporated, add the Water and mix on slow for 2-3 minutes until a smooth sticky dough is formed.
Now add the room temperature Butter one teaspoon at a time until add emulsified into the dough.
Continue to mix the dough on a medium speed for around 5 minutes. A smooth and shiny elastic dough should form, this dough is pretty wet and that is what we want, so try to refrain from adding any extra flour.
Transfer the dough to a lightly oiled bowl and cover with cling film or a cloth. Set aside in a warm dry place to rise for 2-3 hours until roughly doubled in size. Knock back the dough by pushing out the air using your fists.
Cover again and allow to rise again in the refrigerator overnight.
The following morning, remove the dough from the fridge 2-3 hours before you plan on using the brioche loaf.
Grease a loaf pan generously with Butter and set aside.
Knock back the dough again and turn out onto a worktop.
Using your hands, press out the dough to form a rectangle. pull the left and right sides to the center, then fold in the top and bottom flaps of dough into the center too. Starting from the top, begin to roll back the dough into a tight log shape. Tuck under the two open sides (left and right) to seal and place seam side down into the prepared loaf tin.
Cover and allow to prove for the final time for around two hours until it appears light and pillowy and has risen considerably.
Preheat the oven to 180 degrees celsius.
Make an Egg wash using the Egg Yolk and milk and gently brush all over the top of the loaf, be careful not to apply too much pressure as it will deflate the loaf.
Bake for 40 minutes. The top should appear dark and glossy.
Remove from the oven and allow to rest int he tin for 10-15 minutes before turning out onto a wire rack to cool.

For the French Toast
Using a serrated knife, slice two thick slices from your Brioche loaf.
In a dish, whisk together the Egg yolks, Milk, Sugar, Vanilla and Cinnamon. Lay the brioche slices in this mix to soak for around two minutes on each side.
For the grilled peaches, heat a hot skillet or non stick pan and place the peach halves cut side down into the pan. Press down using a kitchen weight or your hands and cook for 2-3 minutes, until the flesh begins to soften and warm and appears to have charred dark marks all over. Set aside.
In the same pan on a medium heat add the Butter and heat until it begins to foam slightly.
Add the soaked slices of Brioche and cook on each side for 3-4 minutes before flipping and cooking on the other side. The Bread should be an even golden brown colouring on each side.
Plate the french toast onto your dishes, brioche in the center, followed by a spoonful of the creme fraiche, topped with the grilled peaches, Toasted flaked Almonds and as much Maple syrup a you like.
Enjoy!