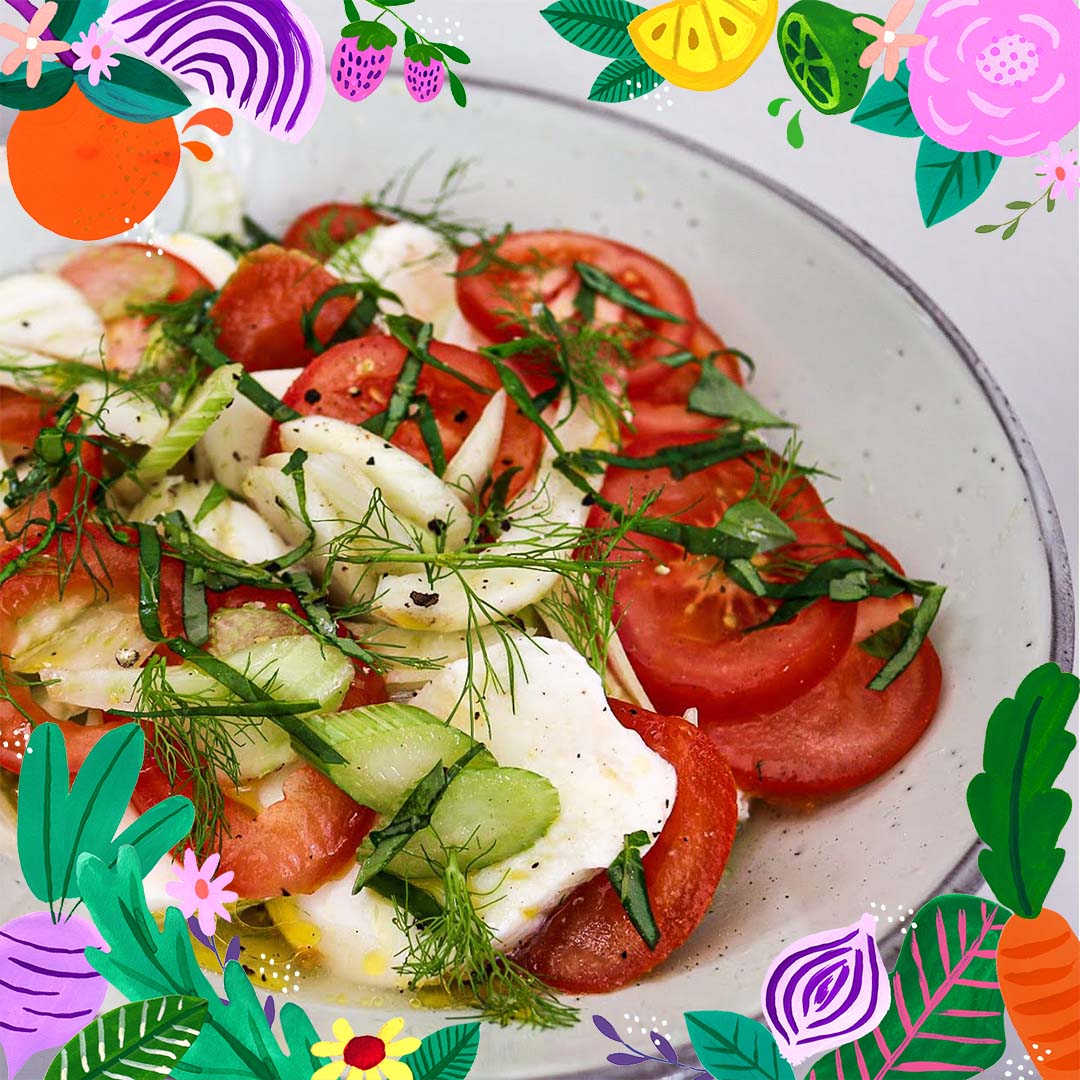 Caprese is one of my favourite summer salads, simple in it's ingredients yet extremely vibrant and delicious. Good quality ingredients are the key to this dish, so try to find the best produce you can to make this dish sing.
This lovely salad is Vegan and Gluten free, so perfect for when you're hosting guests with different dietary requirements. Again this dish is suited for 2 adults, however feel free to scale up or down to suit your needs. I would recommend preparing this dish no earlier than a couple of hours before serving to keep everything fresh and vibrant.
Ingredients (serves 2)
1 bulb Fennel
4 Large Tomatoes
1 1⁄2 Balls Fresh Buffalo Mozzarella
1 handful fresh Basil
2 Tbsp Olive Oil
Salt
Black Pepper
Juice 1⁄2 a Lemon
Method
Begin by preparing the Fennel. Cut through the center, then using a sharp knife, remove the hard base of the fennel (the heart or core) by cutting a triangle shape in the base, the hard part should come right out, discard this part.
Using scissors or your fingers, pluck the frilly fronds from the top (they look a little like fresh dill) and set them aside for garnish.
Thinly slice the remaining Fennel, you want nice long thin slices so try to cut finely on a diagonal.
Next prepare the Tomatoes. Using a serrated knife, thinly slice the Tomatoes, then prepare the Mozzarella in the same way.
Grab your serving dish (I like a wide shallow bowl) and begin alternately laying down the Fennel, Tomato and Mozzarella slices until all are used.
Evenly drizzle over the Olive Oil along with a good sprinkling of Salt and Pepper and the Lemon Juice.
Finally tear over the fresh Basil and the Fennel fronds from earlier and serve.
Enjoy! –>