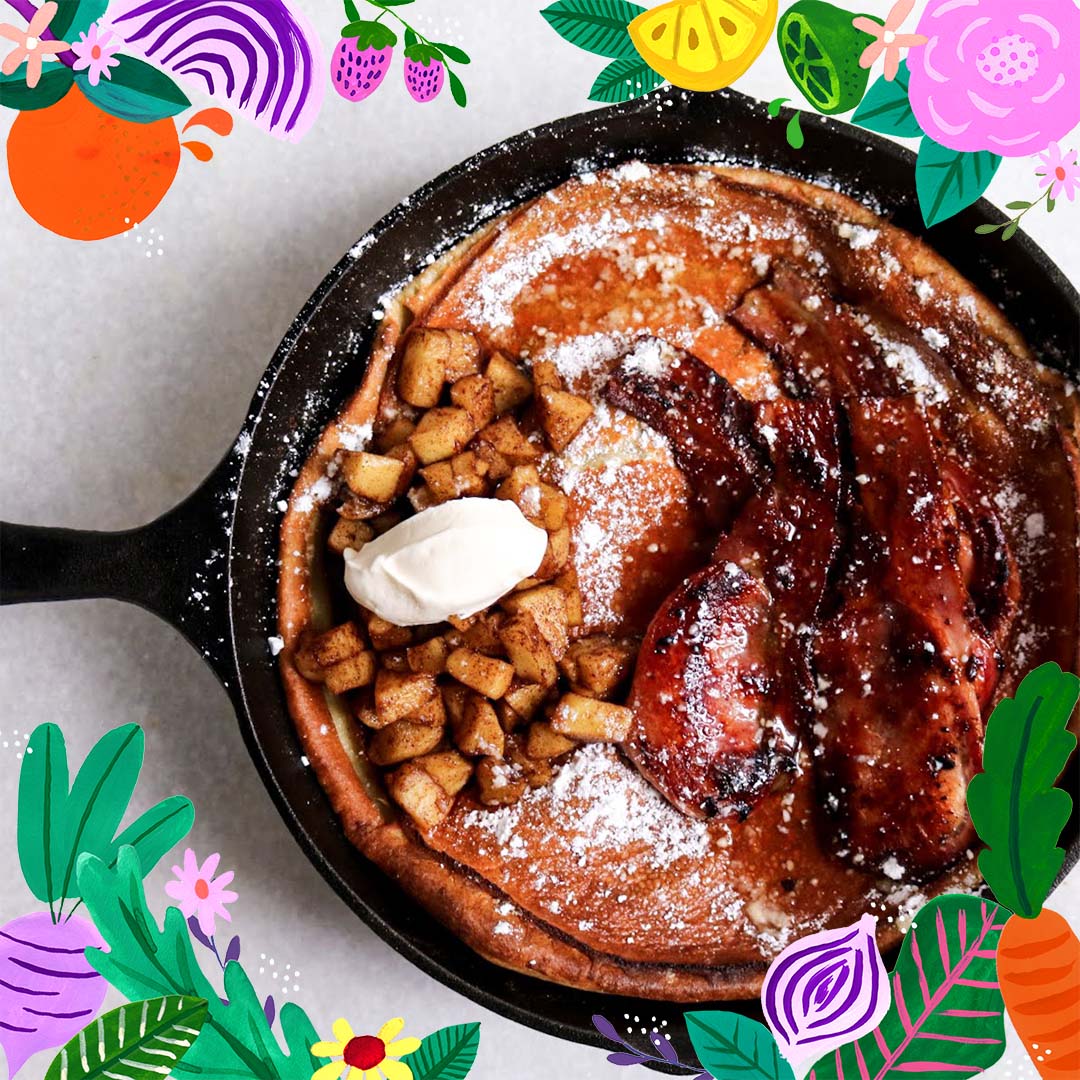 I am so happy right now, I have just welcomed a new little rescue kitty to our home and I have a belly full of this delicious Dutch Baby.
It was only recently that I had heard of Dutch Baby's for the first time (from my favourite show "Bob's Burgers") and even the animated version of the breakfast had me drooling and eager to make one for myself. Now although the name, this dish is not Dutch but American. It gets it's name from the way it is cooked, in a cast iron skillet.
Now I'm afraid that a good cast Iron skillet is essential for this recipe, but luckily you can get them quite inexpensively on Amazon for next day delivery. This American Breakfast is basically a cross between a Pancake and a Yorkshire pudding, so basically absolute heaven to us English folk and a must for your next Brunch. I love to fill mine with Crispy smoked Bacon, Maple syrup and a heaping pile of Cinnamon stewed Apples, and this is what I have included in this recipe, however feel free to fill with your favourites.
This recipe makes enough to fill 1 25cm cast Iron skillet, which could feed between 2-4 people (I'm in the 2 person gang) but depends on your appetite.
Ingredients
3 Eggs
1 Tbsp light brown soft Sugar
150ml Full Fat Milk
1 Tsp Vanilla
100g Plain Flour
1⁄4 Tsp Ground Cinnamon
Pinch Salt
25g Butter
For the toppings
4 rashers Smoky Bacon
2 Braeburn Apples

1⁄2 Tsp Ground Cinnamon
1 Tbsp Light Brown Sugar
Pinch Salt
1 Tsp Water
1 Tbsp Creme Fraiche
Sprinkling of Icing Sugar
Maple Syrup for drizzling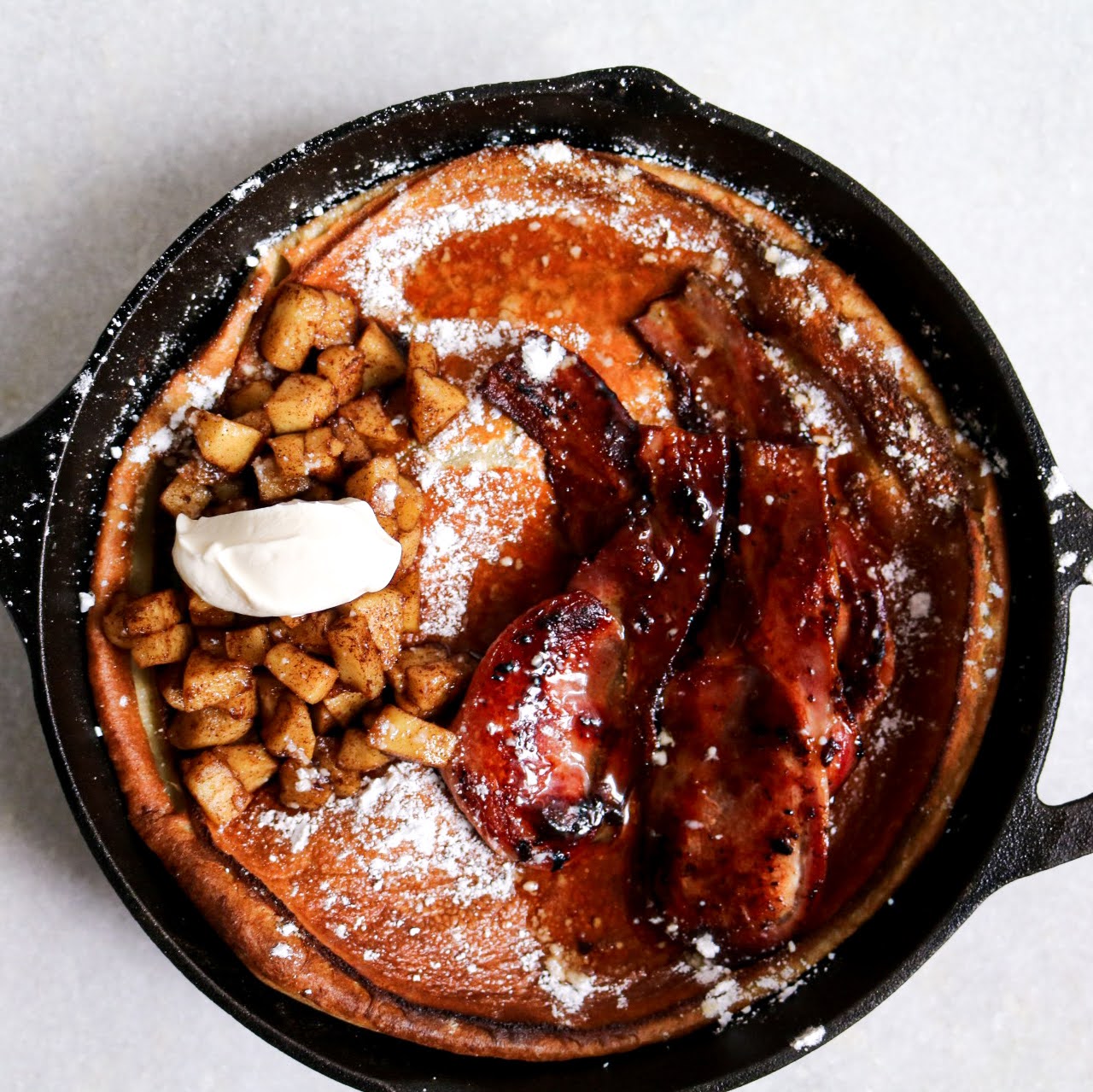 Method
Preheat your oven to 210 degrees celsius. Pop a 25cm cast Iron Skillet into the center of the oven to heat up as your oven pre heats.

To make the batter, place the Eggs and Sugar into the bowl of a stand mixer and whisk on high speed until it becomes light and frothy, around 3 or four minutes.

Reduce the speed and gradually pour in the milk and Vanilla.

In a separate bowl whisk together the Flour, 1⁄4 Tsp Cinnamon and Salt. Add to the batter and whisk to incorporate. You should have a fairly thin and smooth but aerated batter.

Once the oven is preheated, remove the skillet from the oven and add the butter, spread around to coat the bottom and sides of the pan.

Immediately pour in the batter and put back into the oven. Bake for 20 minutes.

Meanwhile prepare the Bacon and the stewed Cinnamon Apples.

Add four rashers to a non stick frying pan and fry on medium for 8-10 minutes, using a bacon weight, until nicely browned and crispy.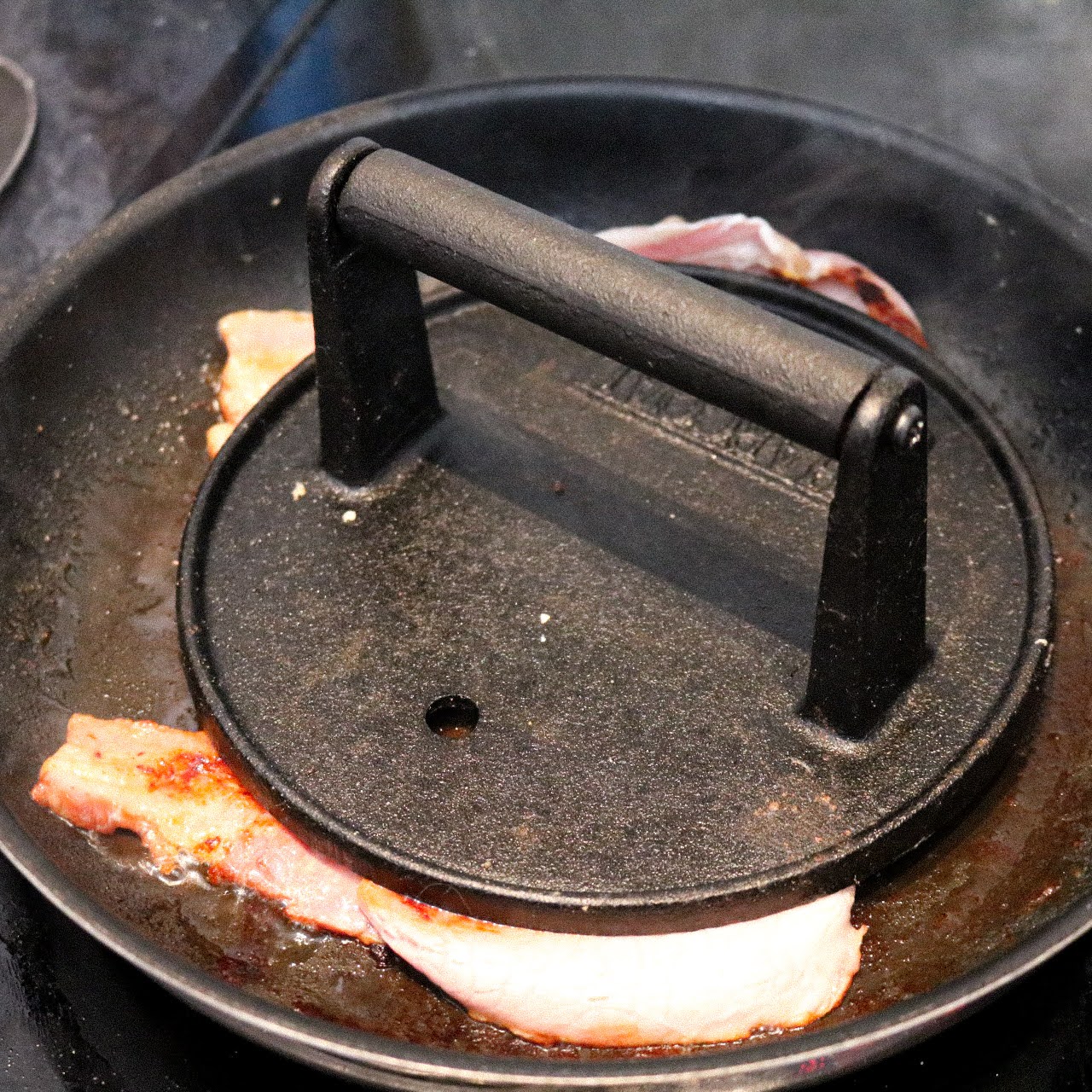 While the Bacon is cooking, peel and dice the Apples and add to a small saucepan along with the Cinnamon, Sugar, Salt and Water. Heat on medium, stirring occasionally, for around ten minutes or until slightly softened but not mushy.

Once the Dutch Baby has finished baking, remove from the oven. Arrange the Bacon and stewed Apples on top as you like.

Finish with a spoonful of the creme fraiche, a drizzle of Maple Syrup and a light dusting of Icing sugar.
Enjoy!