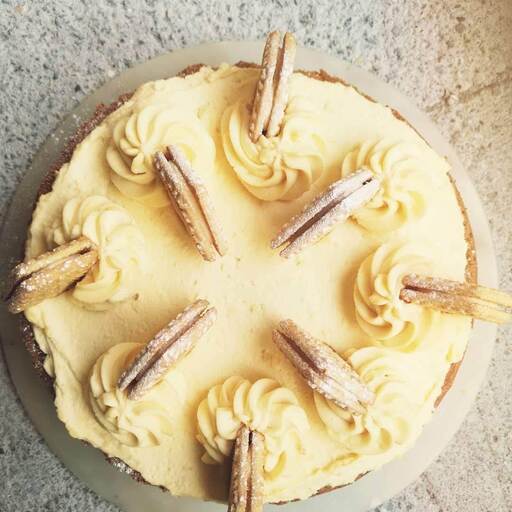 This cake came about because I had a tub of left over custard from making Danish pastries a few days ago, a spare victoria sponge in the fridge (I always like to keep back ups) and a nice leisurely morning to fill.
Personally, a cup of hot tea and a slice of this cake is a perfect way to bring in the summer evening- I save the biscuit at the end for dunking.
The custard is whipped with fresh cream so it makes for a super light and fluffy filling- I added some raspberry jam for a bit of freshness.
The sponge is my go to victoria sponge recipe- it's oil based, so a super moist crumb.
Ingredients
For the sponge
255g vegetable oil
280g caster sugar
140g whole milk
215g eggs
280g plain flour
12g baking powder
1 tsp vanilla extract
For the custard cream filling
259g whole milk
110g double cream
50g egg yolk
1 whole egg
80g caster sugar
40g corn flour
70g butter
pinch salt
1⁄2 tsp vanilla extract
330ml double cream
Method
Preheat your oven to 155 degrees celsius.
Grease and line a 22 cm round cake tin- ensuring to put a parchment disk on the bottom and flour the sides well. I prefer to use a spring form tin as it makes for an easier release.
To make the sponge
combine the oil, sugar, milk, eggs and vanilla in the bowl of a stand mixer (if you don't hve one then just use a large bowl with either a hand whisk or an electric whisk) and whisk on medium speed for 2-3 minutes until well combined.

In a separate bowl, sift together the remaining dry ingredients.

Gently fold the dry into the wet mixture until just combined. Do not over mix as this will develop gluten which will make our sponge tough.

Scoop the mix into your prepared tin and level with an offset spatula.

Bake in preheated oven for around 45 minutes at least, but don't rush it as it could take up to 70 minutes as its a large cake.

Baking time will depend on your oven- I like to test after 40 minutes and then every ten minutes on from then- by inserting a tooth pick.

The sponge is ready when the toothpick comes out clean, without any signs of a wet mixture. Make sure to test from the center of your cake.

Once fully baked, remove from the oven and allow to cool in it's tin for ten minutes.

Remove from tin and allow to cool fully on a wire rack.
To make the custard cream filling
Pour milk, 110ml cream and vanilla into a heavy bottomed sauce pan and bring to a gentle simmer.

Meanwhile combine eggs, yolks, sugar, cornflour and salt into a mixing bowl and whisk until light and fluffy.

Slowly add the hot milk mix into the egg mix, whisking continuously until all combined. (this is called tempering, and ensures your eggs don't scramble when introduced to the hot milk.)

Return the mix to the pan and place on a low heat. stir with a rubber spatula continuously until the custard begins to thicken.

Once noticeably thickened, continue to cook out the flour for 3-4 minutes.

You should now have a thick, glossy custard that has a dropping consistency. It should stick to the spoon, but when held upside down should dollop off in large blobs. (finding it quite difficult to describe the texture of custard sorry)

Transfer to a dish and apply cling film directly to the surface of the custard- this will prevent it from forming a skin.

Place in the fridge and allow to cool completely. Preferably 1-2 hours.

Whisk the remaining cream until semi-stiff peaks. Gently fold the whipped cream into your custard until fully combined.
Now that we have our sponge and filling prepared it's time to assemble the finished piece.
Assembly
I prefer to assemble my cakes the next day, having chilled my sponge in the fridge over night. I find this makes for a cleaner cut and finish. But if you're in a hurry, then you can skip that bit and assemble same day- just be delicate with your sponge.
You will need
Round plate or cake board
off set spatula
piping bag and star nozzle
pastry knife or bread knife
raspberry jam (you can make your own if desired)
Custard creams
Cut your sponge into two equal layers- Use a long serrated knife and get down to eye level with your sponge. If the top of your cake is domed, then carefully level out the top to ensure it is flat and level.

Place your bottom layer onto your plate or board. Spread two tablespoons of your jam over the first layer and smooth over with an off set spatula leaving the outer 2cm uncovered.

Top this layer of jam with a thicker layer of custard cream. smooth out to the same point. (If you spread too far then the filling will mix with the outer coating- leaving you with a messy finish.)
Remember to set aside enough custard cream for piping on top of your cake.
Place the second layer on top. Do not put jam on this layer.

Smooth the custard cream over the top of your cake. You can cover the sides too if you make a bit more filling. Use the off set spatula to help with sharp edges. Continue to smooth until you are happy with your results.

Using the piping bag and star tip nozzle, create eight evenly spaced swirls on the top outer edge.

Finish by arranging custard cream biscuits atop your cake in your desired arrangement.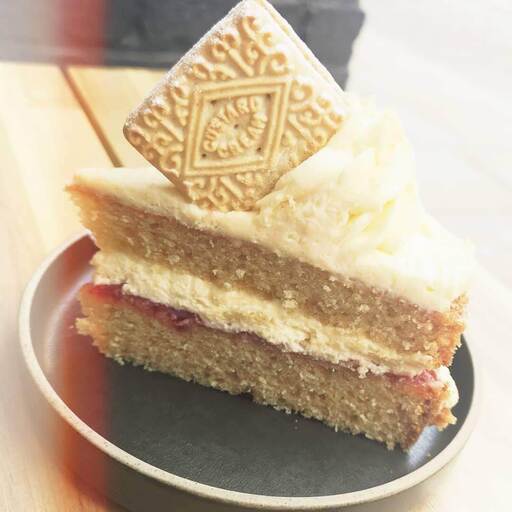 Now you have your finished custard cream layer cake! out your feet up and enjoy a generous wedge with a big mug of tea.
I hope you enjoy this recipe. If you decide to make it then i would love if you tagged me in a picture on Instagram.
Happy Baking!