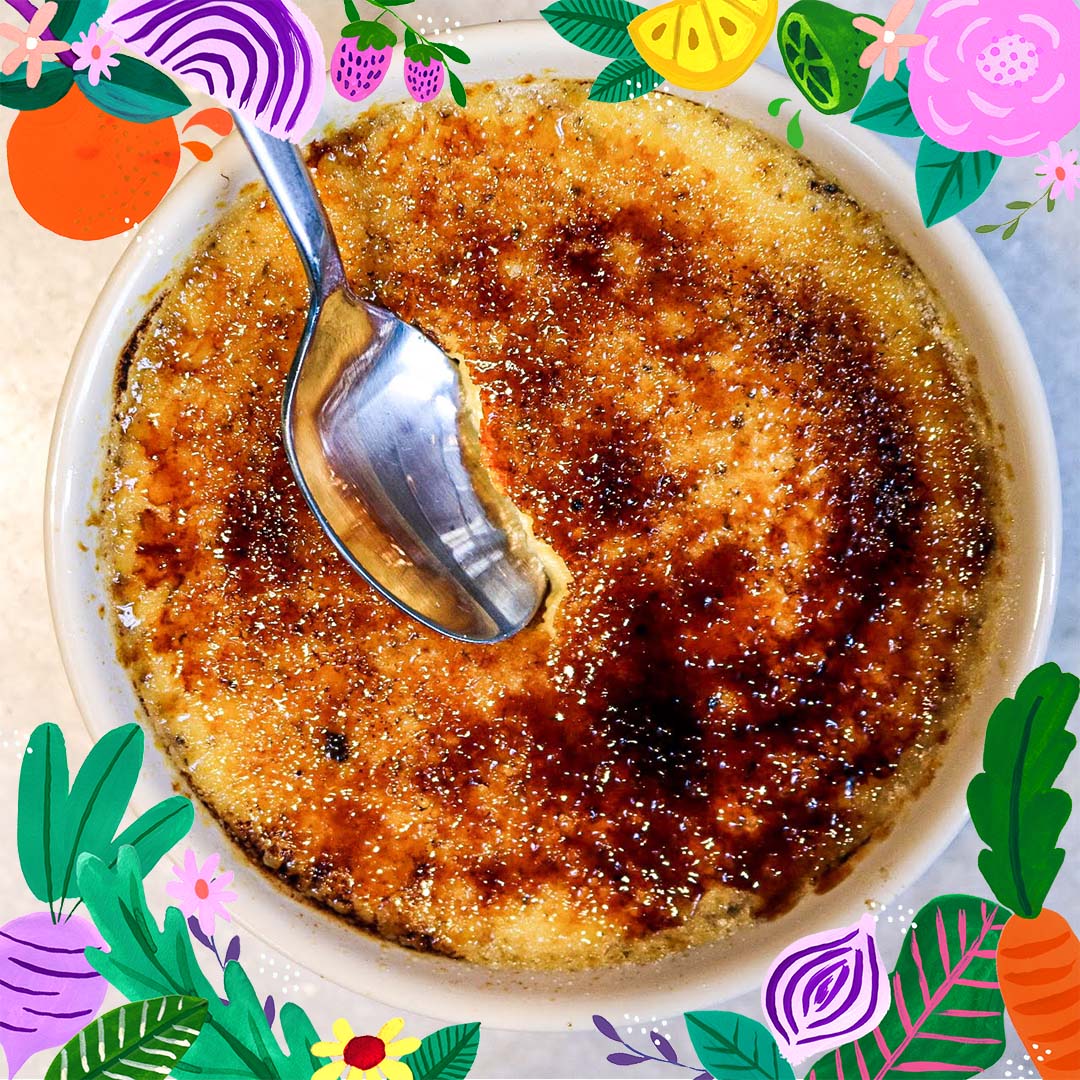 This week's dessert is a beautiful classic. Silky smooth custard with a crackling caramel top, filled with the aromatic flavour of Tonka. If this is your introduction to Tonka Beans then allow me to welcome you to my favourite flavour of all time. Tonka Beans are a delicate balance of sweet Vanilla, Bourbon, Almond and Caramel, dreamy right? Although gorgeous, these little beans can be hard to get hold of, I like to order mine online as no where local to me stocks them, you can sometimes get them on sites such as Amazon for easy and quick delivery. This recipe makes 2 however the portions can be quite large so you could probably stretch it to serve 4 sharing between the two ramekins (Personally I can manage a whole one to myself but I am a huge dessert person).
Ingredients
140ml Double Cream
160ml Whole Milk
2 Tonka Beans
4 Egg Yolks
50g Caster Sugar
Extra Sugar for brûléeing
Method
Preheat the oven to 150 degrees celsius.
Add the Cream and Milk to a heavy based sauce pan and bring to a simmer. Add the finely grated Tonka beans and remove from the heat after one minute of simmering.
In a large bowl, mix together the Egg yolks and Sugar with a rubber spatula for a few seconds until fully combined, try to add as few air bubbles as possible.
Slowly stream the hot cream mixture into the eggs, stirring as you go. Do this very gradually until both are fully combined.
Return the mix to the sauce pan and heat on the lowest heat setting for 1-2 minutes, stirring constantly until the mixture ever so slightly thickens, be very careful not to over heat the mixture here as it may scramble or split. You may not notice much of a difference but it does help. Take of the heat, pass through a fine mesh strainer and set aside.
Set your ramekins into a deep baking dish. Fill the baking dish half way up the sides of the ramekins with hot water.
Divide the custard mix evenly between the two ramekins. Cook in the preheated oven for 35-40 minutes. The Crème brûlée should look set but still have a slight jiggle in the center.

Carefully remove from the oven and immediately remove the ramekins from the water bath (be careful not to scald your hands here, I slide a fish slice under each dish and carefully transfer). Set the Crème brûlée's aside to cool fully in the fridge for at least 2 hours.

Once chilled, sprinkle around 1 teaspoon of sugar over the surface of each brûlée. Spread it out thinly and evenly using your finger. You don't want and thick or bare spots.

Using a gas blow torch, begin to brûlée the sugar, using a circular motion over the surface to avoid burning certain spots. Continue to brûlée until the whole surface appears dark golden brown and no raw sugar is left to be seen.
Enjoy!