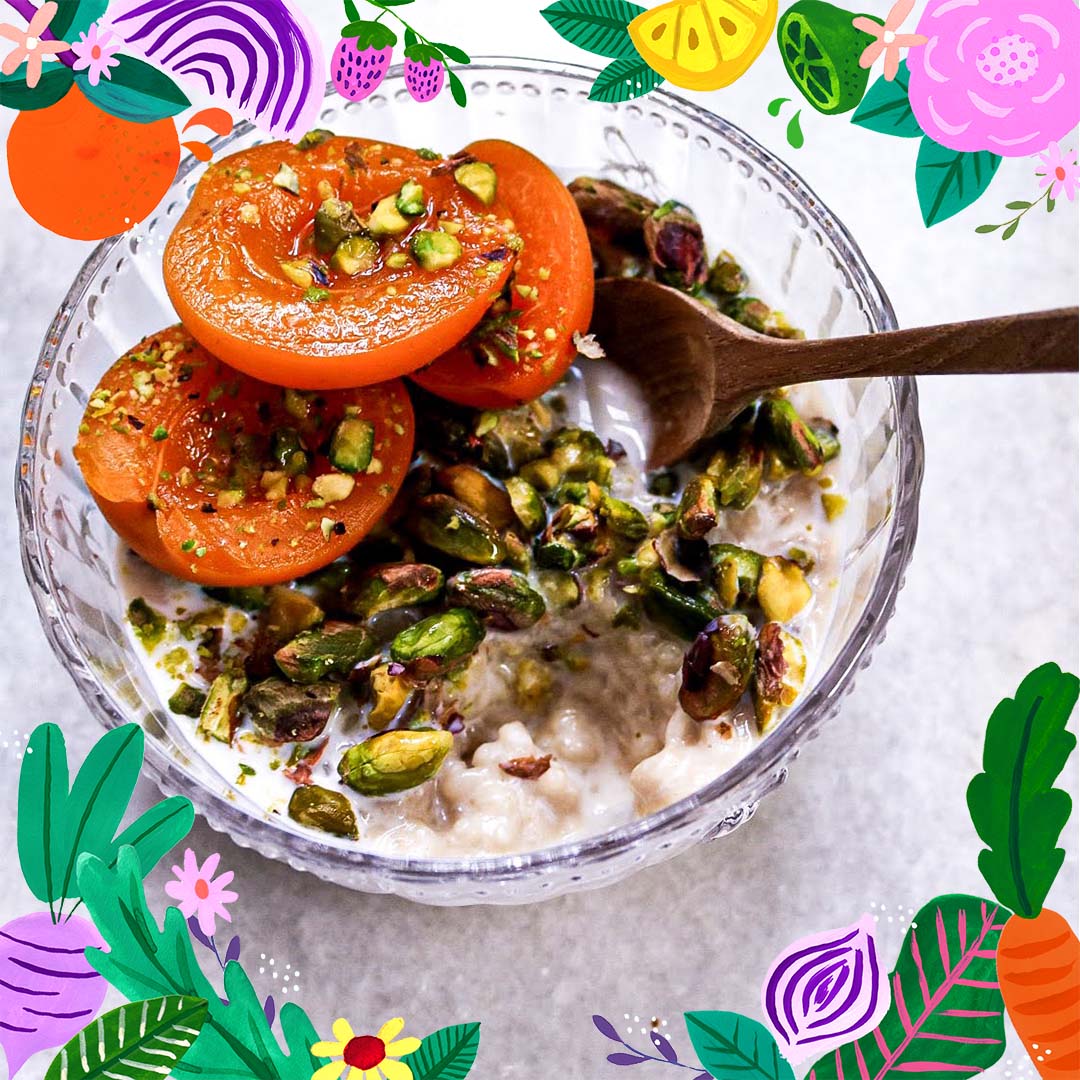 I grew up loving rice pudding, hot and creamy and always with a big spoonful of strawberry jam swirled through. It is a nostalgic pudding for me and many others, so I figured why not take that childhood dessert and turn it into something a bit more exciting and refined. This chilled Cardamom Rice is my new go to in the summer evenings when my sweet tooth won't leave me alone, topped with Rose infused Apricots and green pistachios this dish is such a delight, oh and did I mention this pud is Vegan too? This dessert is perfect for making ahead of time, in fact it tastes even better the longer you chill it, so I would recommend preparing your rice the night before to allow for developed flavour and a relaxing day ahead.
Ingredients (serves 2)
110g Pudding Rice
220ml Coconut Milk
150ml Oat Milk
30g Caster Sugar
2 tsp Vanilla
4 crushed Cardamom Pods
3 Apricots halved and pitted
25g Caster Sugar
2 strips Orange Peel
100ml Water
1 Tbsp Rose water
50g shelled Pistachios
Method
In a medium heavy based saucepan, combine the Pudding rice, Coconut Milk, Oat Milk, 30g Caster Sugar, Vanilla and 2 of the crushed Cardamom pods.

Heat on medium low and stir now and then to avoid the pudding from sticking to the pan.

Cook for around 15 minutes. The rice should be soft to the bite and the milk mixture should have thickened considerably to a condensed milk like texture. If the rice is still too hard, add a bit more milk and continue to cook out until soft.

Remove the Cardamom pods from the mix and spoon the cooked rice into two glass serving dishes and refrigerate overnight or for at least 2 hours.

To prepare the poached Rose Apricots, heat the 25g Sugar, Orange, Water and Rose water in a pan until the sugar has dissolved and the mix begins to simmer.

Add the Apricot halves to the sugar mix and simmer gently on low for 5-6 minutes. You want the Apricots to still hold their shape but be soft enough to cut with a spoon. Remove from the heat and chill the Apricots in their poaching liquid until ready to serve.

To serve, remove the rice from the fridge and top each dish with 3 of the Apricot halves and a few spoonfuls of the poaching liquid.

Scatter chopped Pistachios over the top and serve.
Enjoy!