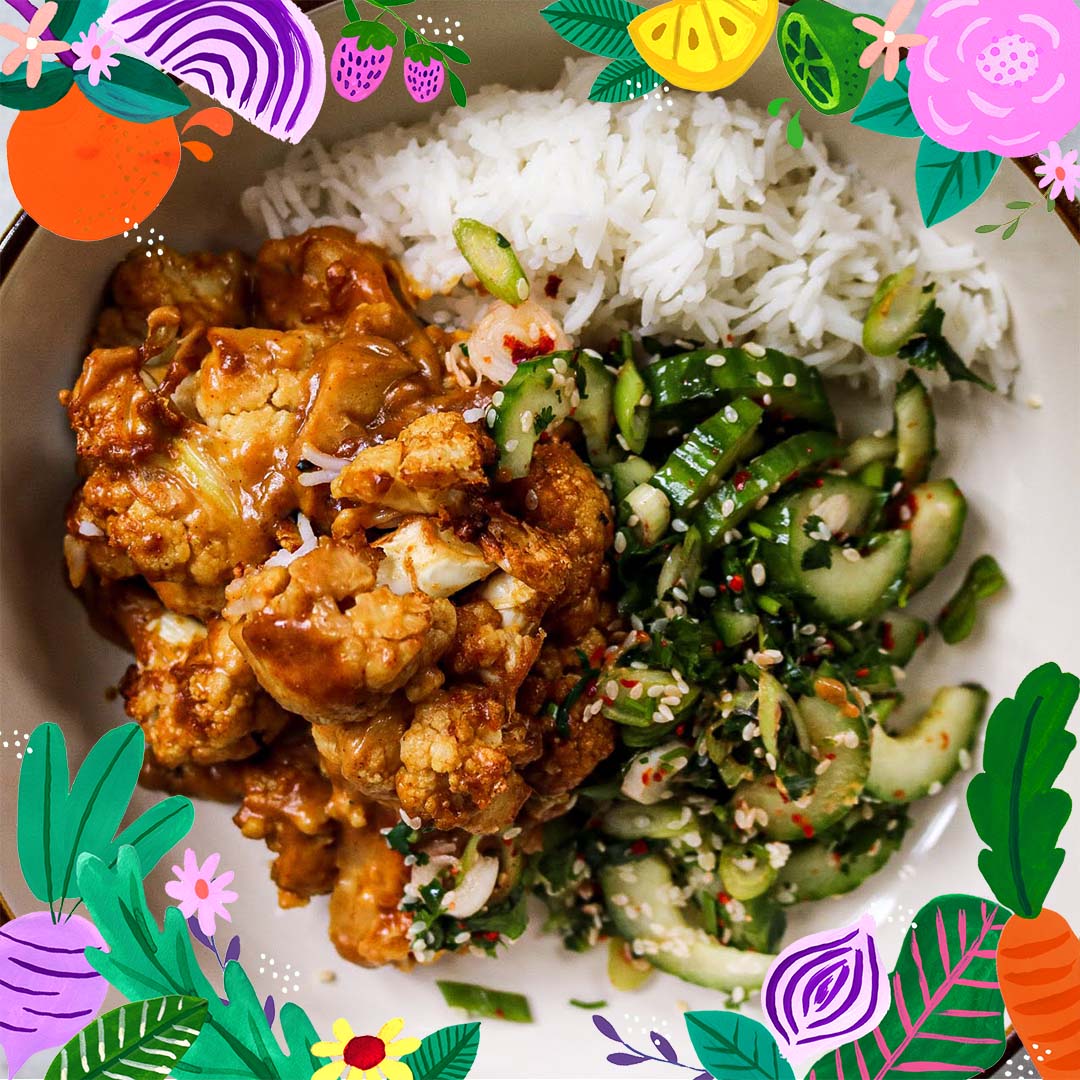 This week's main is an Asian feast of Cauliflower Satay with a fresh Cucumber Salad. This dish is vegan and can easily be make gluten free with the right substitutions. Satay is a delicious peanut and coconut sauce, traditionally used as a meat marinade, however it accompanies this vegan cauliflower dish perfectly for a super satisfying meal. The Cucumber salad adds so much freshness and brightness to the main, as well as adding great texture and flavour. I love to serve this dish alongside boiled white long grain rice and fried Paratha, but feel free to serve with any of your favourites.
Ingredients (serves 2-3)
For the Satay
1 Small Cauliflower
Juice of 1 Lime
2 Tbsp Smooth Peanut Butter
2 Tbsp Canned Coconut Milk
2 Tbsp Sy Sauce
1 Tsp Sesame Oil
1 Tbsp Maple Syrup
1 Tsp Salt
5 Twists fresh Ground Black Pepper
1 Tbsp Curry Powder
For the Cucumber Salad
1 Whole Cucumber
3 Spring Onions
Handful fresh Coriander
juice 1⁄2 Lime
1 Tsp red Pepper flakes
2 Tsp Sesame Seeds
2 Tsp Rice Wine Vinegar or Mirin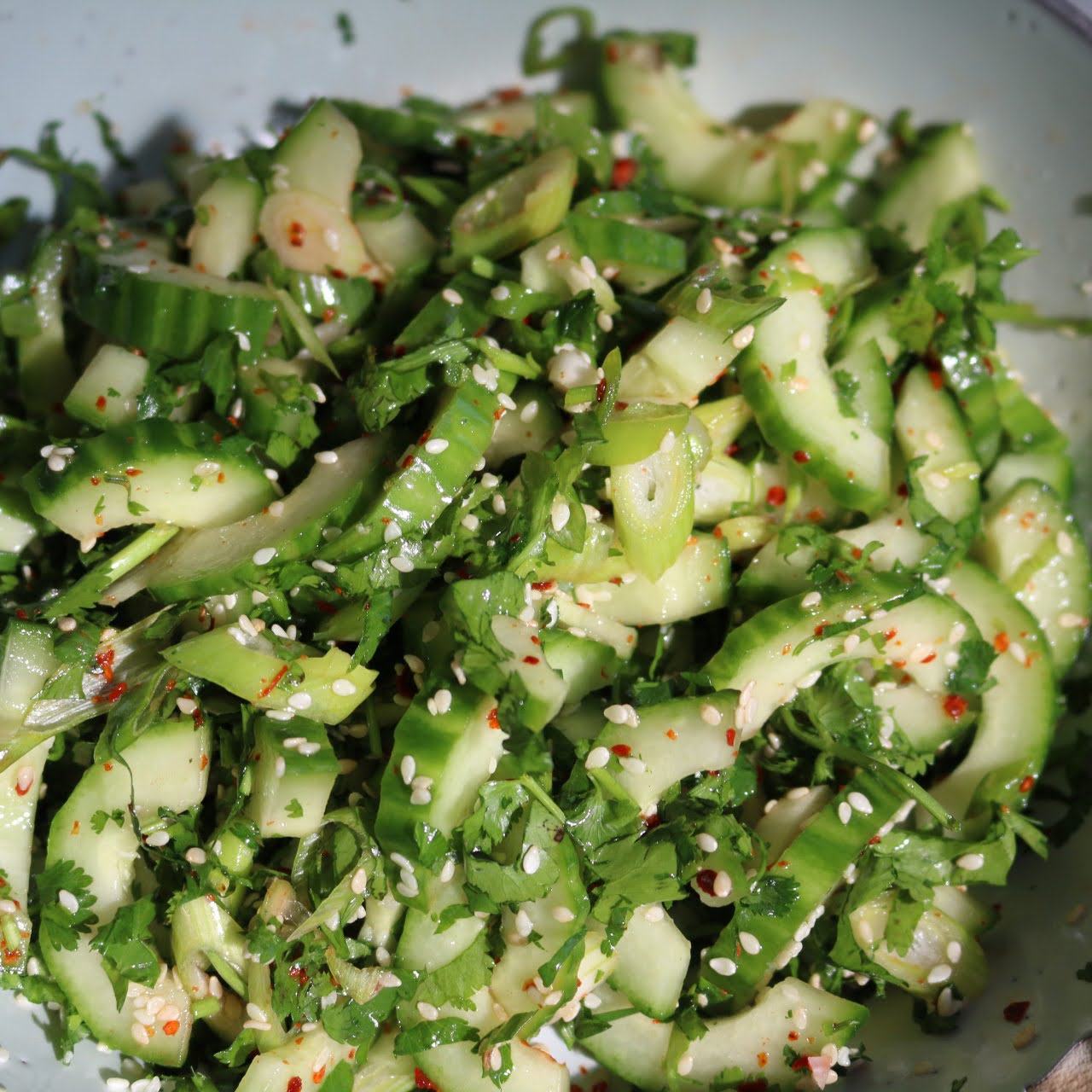 To Serve
White Long grain Rice
Fresh Parathas
Method
Begin by preparing the Satay sauce. In a bowl or a blender combine all of the ingredients for the Satay besides the Cauliflower and mix or blend until a smooth paste.

Cut the Cauliflower into small florets and blanch in boiling water for 5 minutes. Drain through a colander.

Cost the Cauliflower florets completely in the Satay sauce and transfer to an oven proof dish. Cover and leave in the fridge to marinade for 1-2 hours. You can marinade overnight if you are preparing this a day ahead.

After this time, preheat your oven to 180 degrees celsius and bake the Cauliflower Satay for 45 minutes, stirring half way through to ensure even baking. If you are serving your dish with rice then this would be a god to get this on the go.

Meanwhile lets prepare the Cucumber salad. Slice the cucumber down the middle of its length so you have two long halves.

With a teaspoon, scoop down the center to remove all of the Cucumber seeds and wet pulp, discard of this bit.

Slice up the rest of the Cucumber into 1cm pieces and toss in a salad bowl. Thinly slice the spring onions on a diagonal along with the Coriander and add to the bowl.

Add in the rest of the salad ingredients and give it all a big toss. Keep in the fridge until ready to serve.

To serve

In your preferred dishes, I like wide shallow bowls, Spoon a portion of cooked Rice followed by a good serving of the Cauliflower Satay.

To the side, place a large helping of the fresh Cucumber Salad and a flat bread or Naan of your choosing, I love fried Paratha as its super flaky and Buttery.
Enjoy!