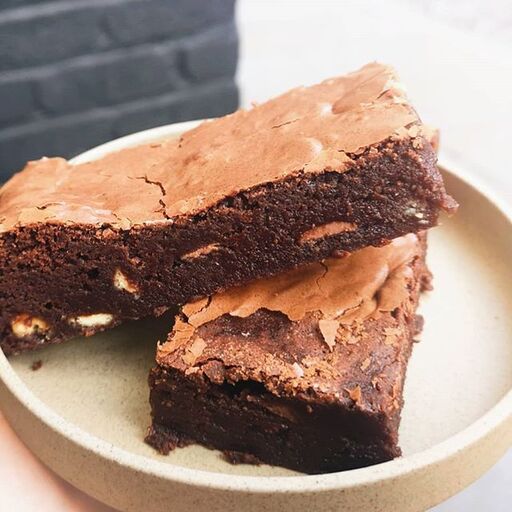 This has been my go to brownie recipe for around 5 years now, and trust me, once you've tried these you will never want to try another recipe again. To me, they are perfection.
I first got my hands on this recipe during my first time working as a pastry chef, from my friend and co worker Josh. I've been sharing it with my friends and co workers ever since. Most often i go for triple chocolate, but I've dabbled in hazelnuts, peanut butter and caramel. But for this recipe I'll stick to my star player- a blend of white, milk and dark chocolate chip.
You really do want to indulge in a high quality chocolate for these as it makes such a huge difference to the end result. I have always used callebaut, but that's more for industry professionals as it can be rather pricey. So if you're at home then something like green and blacks is perfect.
These brownies are baked low and slow which makes for the perfect gooey center while still maintaining structure. if you're wanting these to portion neatly with straight defined edges, I would highly recommend leaving them in the fridge overnight before cutting to give the inside time to set fully.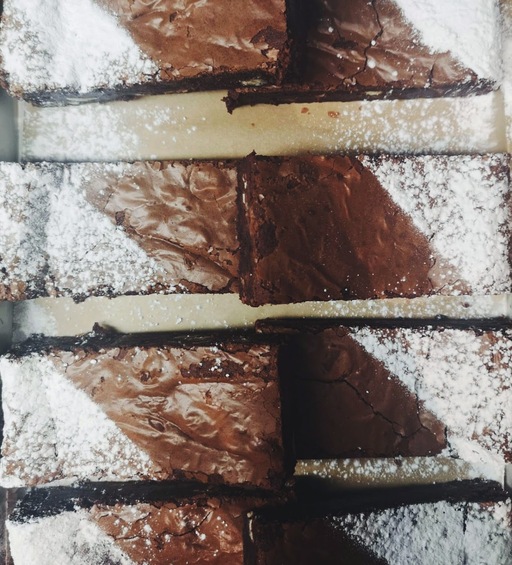 Ingredients
360g unsalted butter
360g high cocoa content dark chocolate
6 whole eggs
550g caster sugar
40g cocoa powder unsweetened
170g plain flour
4g salt
100g white chocolate chips (or finely chopped)
100g milk chocolate chips (or finely chopped)
Method
Melt the butter and dark chocolate together either in the microwave or in a bowl over a pan of simmering water.

Whisk eggs and sugar on high speed in a stand mixer or with an electric whisk until thick, pale and fluffy (around 5 minutes.)

Sift the flour, cocoa and salt together.

When the chocolate and butter are slightly cooled, add to the egg mix while whisking on a low speed until fully incorporated.

Slowly add the sifted flour mix into the egg mixture and whisk until just combined. Add the chocolate chips and mix until evenly distributed.

Preheat your oven to 160 degrees celsius.

Grease and line a rectangular or square baking tray with deep sides- around 35 x 25cm.

Pour the mix into the prepared dish and level out with a spatula.

Bake for 40-50 minutes until sides are fully baked and center has a slight wobble. The top should have formed a nice pale crust.

Remove from the oven and allow to cool before portioning. Serve hot, cold, with ice cream or cream, or yanno just hot out of the dish with a ladle- your choice.