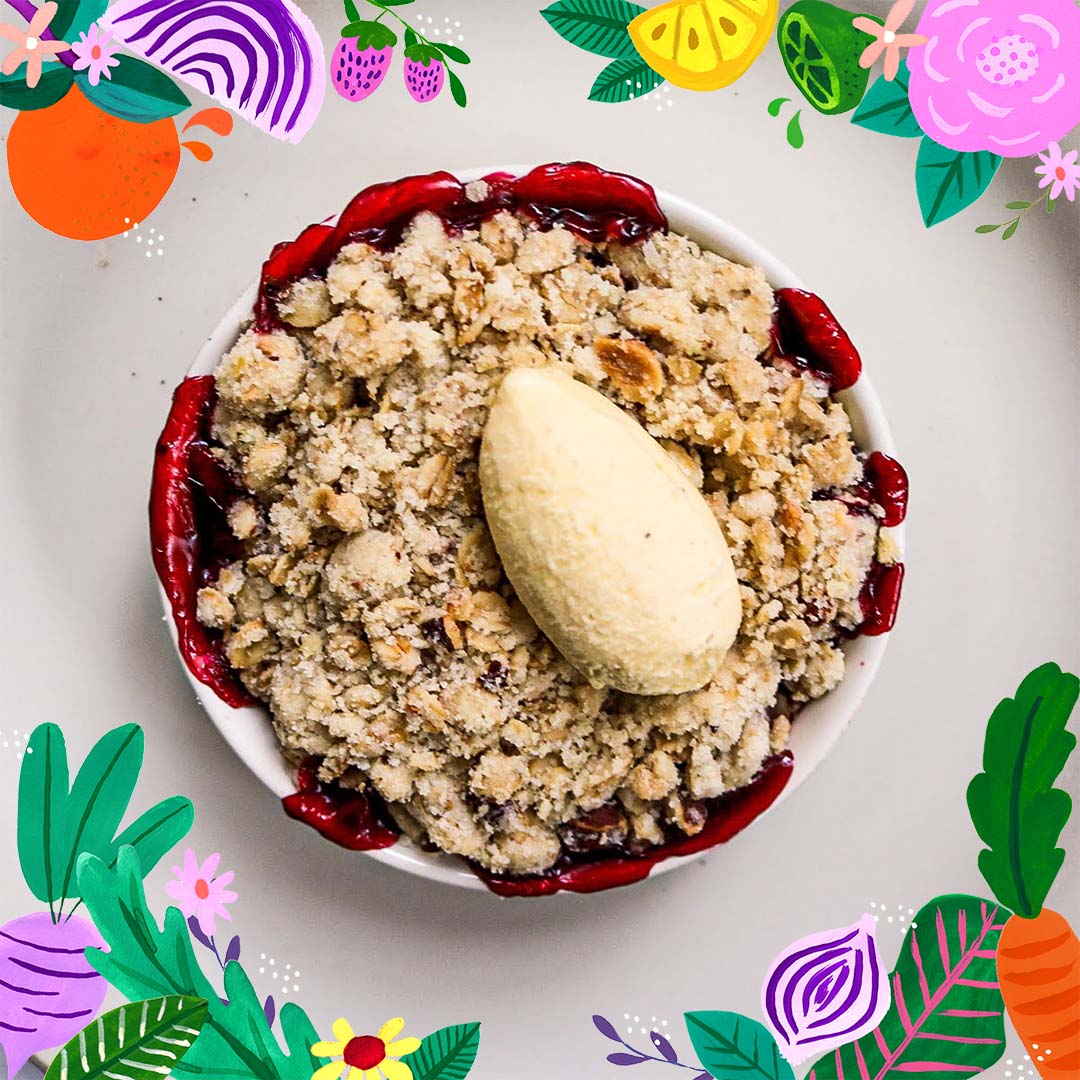 Dessert this week is a fresh and fruity Vegan crumble, with Apple, Blackberry and Hazelnut. These British fruits are at their prime in summer and make for a flavourful and tart base for desserts. The crumble is mixed with chopped Hazelnuts and Oats which adds more textural variety to the dish, bound with Oil to keep the dish vegan in the absence of Butter.
This crumble serves 2 adults so once again feel free to scale up and down to suit you. To freeze, assemble the crumble to the point before the final bake, cover well and freeze for up to 3 months. Bake from frozen for around 45 minutes.
Ingredients (serves 2)
1 Apple (Braeburns work great)
180g Blackberries (fresh or frozen)
Juice of 1⁄2 Lemon
2 Tbsp Caster Sugar
1 Tbsp Corn Flour
1 Tbsp Elderflower Cordial
100ml Water
For the Crumble topping
110g Plain Flour
55g Light brown Sugar
60g Rolled Oats
40g Chopped Hazelnuts
1⁄4 tsp Salt
60ml Vegetable Oil (or any neutral Oil)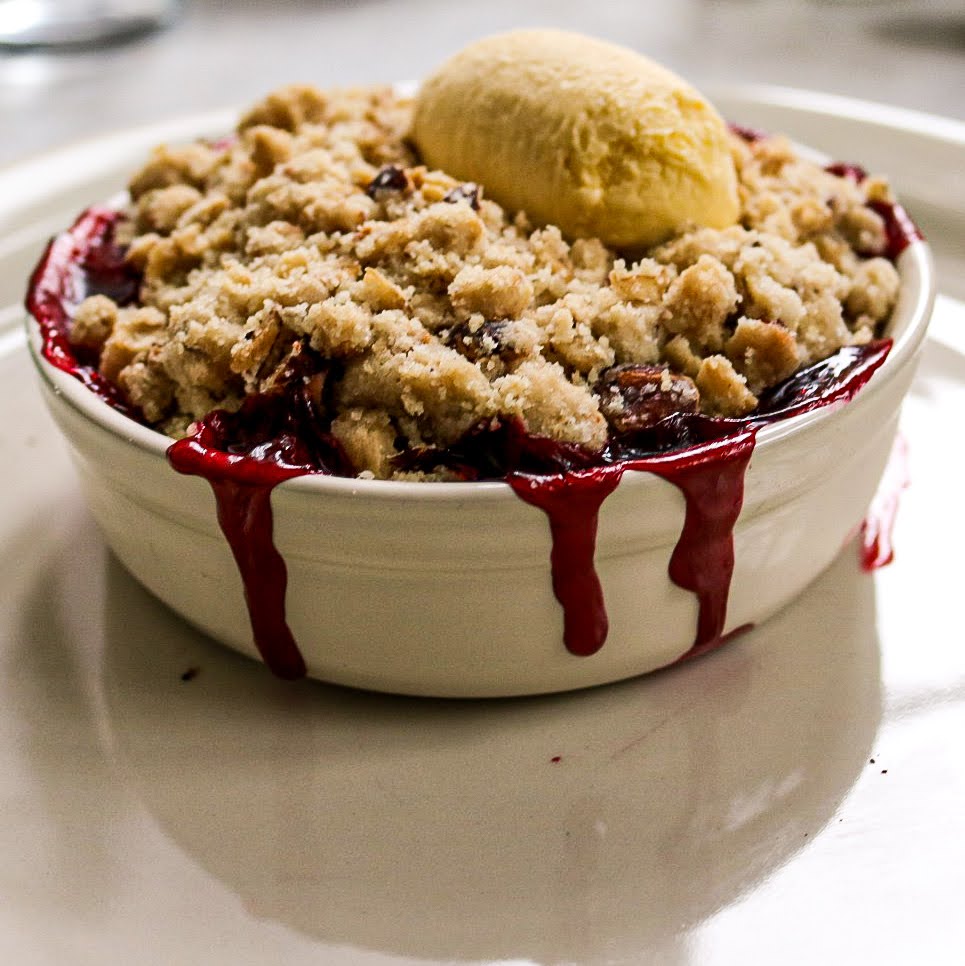 Method
Begin by peeling, coring and dicing the apple into 1cm cubes.

Combine the chopped Apple with the Blackberries in a sauce pan. Add the Lemon juice, Sugar, Corn flour and Cordial.

Heat on medium, stirring occasionally as the mixture will thicken suddenly and catch, for around 5 minutes until the fruit begins to soften and a thick sauce forms.

Transfer the fruit mix to your crumble dish and set aside.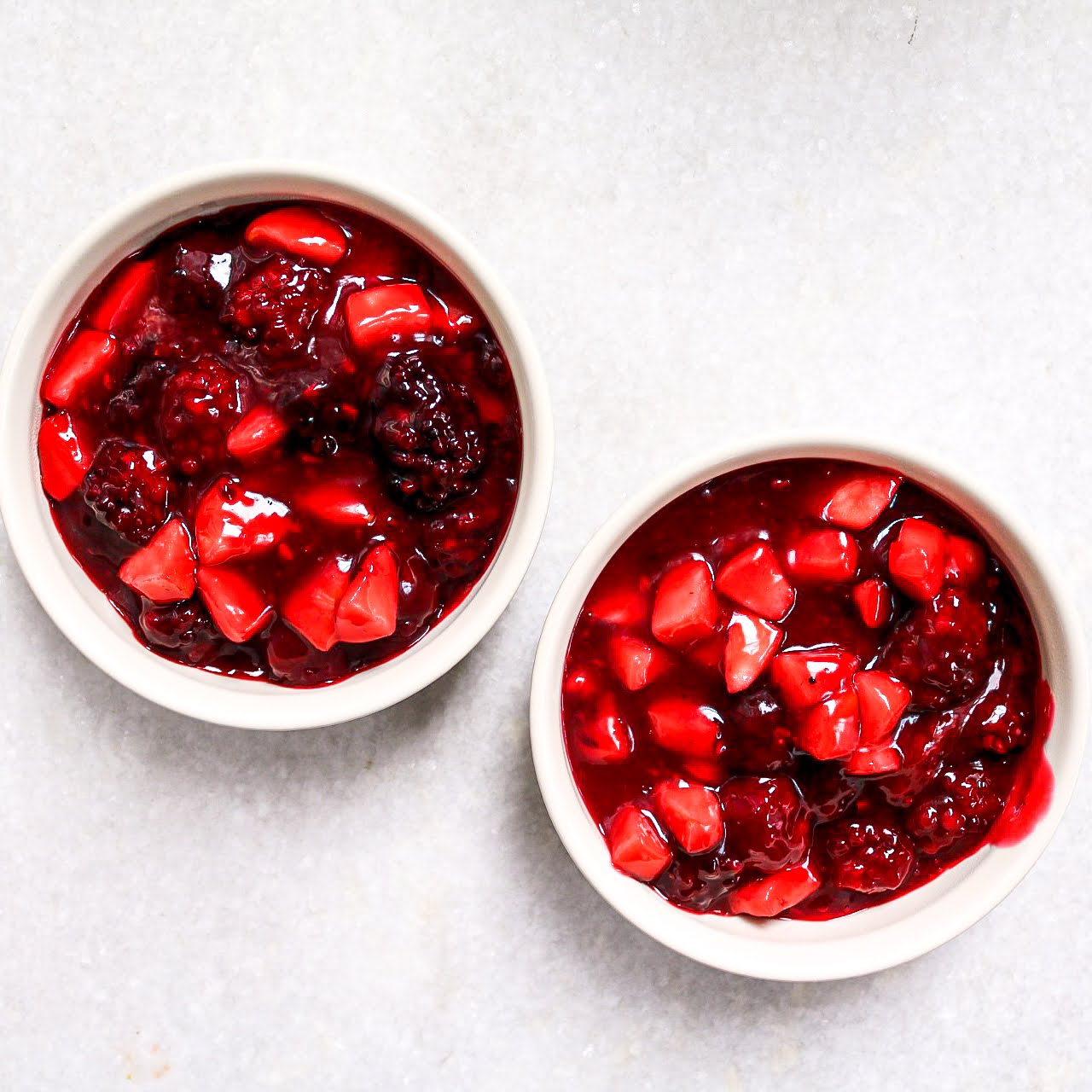 Preheat the oven to 180 degrees celsius.

For the crumble topping, begin by combining all of the dry ingredients into a large bowl.

Add in the Oil and rub into the dry using your fingertips.

The crumble should begin to bind together slightly and form clumps.

Spread the Crumble out in a single layer on a baking sheet.

Bake in the oven for 15 minutes, mixing half way through to ensure all areas get toasted.

Once baked, breakup any large clumps so that you're left with a medium coarse crumble topping.

Spoon the crumble on top of the fruit loosely. Reduce the oven to 170 and continue to cook for a further 25 minutes.

Serve up with your favourite custard or Ice Cream. I like to add a splash of Elderflower Cordial to either to add a fresh and summery burst of flavour.
Enjoy!